It's because I love you that I put this list together for you. It's also my love for you that has me wanting to ensure you get through the holiday season indulging in the best kind of sweetness, without all the crappola. And so here I have a list of my favourite gluten-free and dairy-free holiday treats, some from me and some from some of my bestest health-cheerleading, culinary-nutrition-rockstar-living kitchen kings and queens.
Grain-Free Fruit Crumble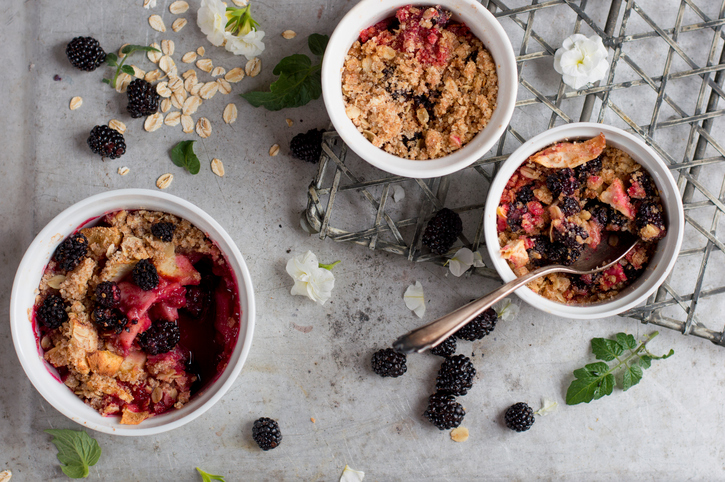 This recipe works with any seasonal fruit and has both grain-free and gluten-free options. This is always a HUGE winner and great for every occasion – you can even have this for a healthy breakfast.
---
Baked Apple Gingerbread Cake
This cake is rich in spicy holiday flavours – spices that also add a super healthy dose of immune power. This is the perfect weekend afternoon cake to be served with a hot cup of tea.
---
Vegan + Paleo Chocolate Cream Pie
An ultra-luxurious chocolate pie recipe that has quickly become a reader favourite. You should see some of the swirls people have designed on the top – a beautiful yet simple dessert that will garner some 'oohs' and 'ahhs' at the holiday table.
---
Chocolate Turtles
I can't get enough of these. For one, they are super simple to make and the caramel filling – made mostly with dates and a little almond butter – is actually mighty confusing. Confusing because it is so much like actual caramel. These are a must-try!
---
Gluten-Free Cookies and Cream Layer Cake
One of the ugliest but most delicious desserts I have EVER made.
---
Sticky Fig Pudding Cake
A healthy re-make of a classic British/Aussie recipe that's enjoyable for absolutely everyone. I highly recommend topping this with vanilla ice cream or coconut kefir.
---
Dairy-Free Maple Cream Custard
An incredibly fueling recipe filled with healthy fats – I practically lived off of this one when my son was a newborn. There is absolutely nothing to feel guilty about in this recipe and it freezes easily for a fantastic make-ahead dessert. Freeze in little Mason jars, defrost and then top with fruit, cinnamon, chocolate sauce or just serve them plain.
---
Chocolate Chia Pudding
This pudding recipe is not only delicious, but soothing for digestive health – and many of us need the digestive support during the holidays. Make it vegan by skipping the collagen protein!
---
Caramel Fudge Chocolate Bars
A triple-layered chocolate bar covered in chocolate. Plus it's grain-free and Paleo. What more could you want in your holiday treats?
---
Anti-Inflammatory Ginger Cashew Cups
By Amanda Maguire via Academy of Culinary Nutrition
This is a very popular recipe on the Academy of Culinary Nutrition blog created by Culinary Nutrition Expert, Amanda Maguire – she has successfully made chocolate our favourite medicine of choice!
---
Gluten-Free Orange Almond Cake
By Maya Henry via Academy of Culinary Nutrition
A gluten-free and grain-free cake recipe that originally began as a New Year's dessert and went on to be a family tradition for many occasions that need dessert!
---
Mini Gluten-Free Apple Galettes
By Macy Diulus via Academy of Culinary Nutrition
These are basically little apple pies and they are super easy to make! Be sure to double or triple the recipe for a crowd because they will be snapped up quickly.
---
Molasses Spice Cookies
by Elana Amsterdam of Elana's Pantry
I've been a huge fan of Elana's grain-free, super simple recipes since I began doing this work. Her entrées are some of the best out there, and her desserts? These I LOVE!
---
Vegan Golden Milk Ice Cream
by Sondi Bruner
Sondi is the queen of vegan and dairy-free ice cream. Her recipes are always very thoughtful, keeping a great balance of culinary nutrition and flavour. This gently spiced turmeric ice cream is a perfect example!
---
Black Bean Lava Cakes
by Davida Kugelmass of The Healthy Maven
If anyone were to ever believe that good-for-you, real-food desserts weren't possible, that conversation would end right here with this decadent and absolutely beautiful creation by Davida. Her whole blog is pretty much rockstar awesome.
---
Vanilla-Rooibos Fig Newtons
By Sarah Britton of My New Roots
Remember Fig Newtons? These are the delicious, healthified version from Sarah B over at My New Roots. Not only are they an upgrade in taste, but these yummy treats are infused with rooibos tea, which makes a great conversation starter at holiday parties!
---
Raw Hazelnut Chai Brownies
Another tea-infused dessert? Yes, please! This time, we are talking the perfect marriage of chai and hazelnut from our friends over at Green Kitchen Stories.
---
Dark Chocolate Doughnut Holes
By Andrea from Barre3
Chocolate snow ball fight – eat this, Timmy's! These healthy donut treats will be a winner around any table.
---
Coconut Black Rice Pudding
By Sarah Britton of My New Roots
This is NOT your Grandma's rice pudding! It's sweet and creamy and tastes like a tropical dream. No one will even suspect that the dessert is good for them.
---
Vegan Salted Bourbon Caramel Ice Cream
By Dana from The Minimalist Baker
Holiday booze, only better! Add some frostiness to your desserts as an extra special treat. Or better yet, make some extra cookies for Santa and whip up some ice cream sandwiches!
---
Need some milk with that?
---
If you have any more awesome gluten-free and dairy-free holiday treats, please share the links below!