Two years ago, I wrote about Arbonne and whether Arbonne was as pure and safe as they claim to be.
My main intentions in writing that Arbonne Review post were as follows:
The Arbonne Consultants:

To convince Arbonne consultants that they could stop pitching me, that I definitely wasn't going to sign up, or get you to do the same, and land all of us under them in the pyramid.

Create Change:

To get the attention of Arbonne in hopes that they might take my questions to heart and perhaps start actually making products that lived up to their manifesto. At the very least, I wanted to show the importance of transparency and persuade them to share their ingredients without a consumer needing to contact the company or a consultant.

Inspire You:

To invite you, the consumers, to start asking important questions about the beauty care products you are using and the claims being made by the brands and - more often these days - by the consultants pushing them at their sales parties.
And what happened?
Goal 1: The Arbonne Consultants
I succeeded on my first goal with flying colours - in shades I couldn't quite have imagined possible. They didn't just stop pitching me, but took to forums, Twitter and their Facebook pages in defence of the brand. Some even took up name calling - all the way to the C U Next Tuesday variety. We have a delete and forgive policy around here- so all we could really do was appreciate their passionate devotion. Arbonne has most definitely grown and nourished a loyal tribe.
Goal 2: Create Change
A few very interesting things happened after my original post went up.
Connecting With Arbonne
With the uproar from the consultants who were in my social media circle, Arbonne contacted me- which was great as they had been very tough to get a hold of before my article went up. I requested a recorded interview but was declined. I was hoping for an opportunity to ask my questions and share their responses with you directly.
I was told that I could submit written questions, which I did, and they were returned to me a few weeks later. It was clear the responses had gone through several rounds of vetting and what remained were cut/paste blocks of text from their website. I also learned that my blog post was used in their forum for how to manage negative propaganda, which I believe led to what happened next.
Being Used As An Example
One of the top search terms that brings people to my website is "Arbonne". It is the most popular post, statistically speaking, of the 1,500+ posts I have written. And so when you google "Arbonne", my original post is the second or third link to come up.
Arbonne attempted to remedy this by creating a bunch of ghost sites. I don't know if this is the technical term, but they basically created a bunch of blank sites in an attempt to push my post down in the search results.
And it worked. Briefly.
But see how descriptions weren't even entered for those fake sites? Well I guess they got found out and the results re-regulated themselves so my post remains near the top.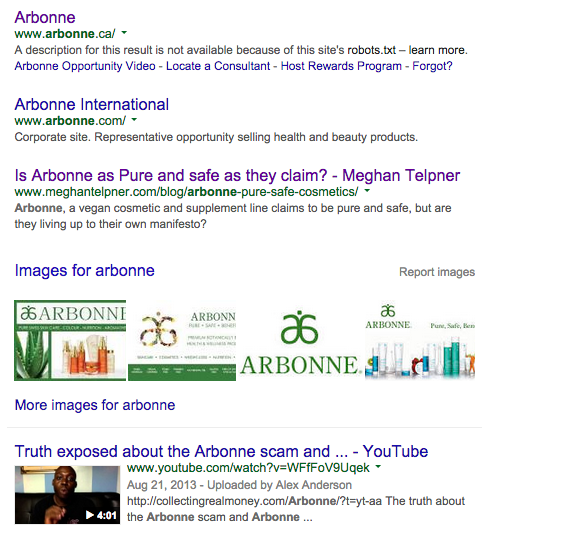 Then Arbonne Did Something Truly Awesome and Effective!
We received an email from a consultant letting us know that Arbonne had launched a brand new site. And with it came the words "transparency",  "honesty", and "integrity" to describe their ingredients. On most product pages, you can now find a link to the complete ingredient list. Thank you, Arbonne!
You can look up any Arbonne product you like and see what's actually in it. This means it's no longer up to a consultant or the company to tell you how pure, safe and beneficial their products are. You get to decide for yourself. That is mighty empowering.
Arbonne has created a massive line of products that are free of animal derived ingredients and are gluten-free. They cheerlead a lot for what's not in their products and seem to be better than most conventional products you'll find in a pharmacy or department store. And they have a loyal and enthusiastic tribe of (mostly) women selling their heart out.
Now That I Know What's In It, Would I Use It?
No.
There is a video Arbonne has posted (there are a few actually, including one of the staff's children thanking the company for helping protect the planet), but the one that caught my attention is called "From The Field To You".  In it you see one of the key researchers out in a field talking about soil quality and harvesting some cultivated strawberries, then driving off in a tractor to deliver this box of fresh produce to a truck. We then see the truck deliver the box of fruit to a guy in a hairnet in the Arbonne manufacturing facility. He sets the box of fruit aside and offers a tour of the plant.
I was curious about what product those fresh strawberries ended up in.
I found a cleanser that contained an extract of Fragaria Vesca, the latin name for the wild or woodland strawberry- which aren't typically the variety cultivated on a farm.
I guess that box of fruit went to the breakroom for snacks?
I simply don't see these products as pure, safe or beneficial.  In other words, they are healthwashed.
Yes, there are loads of products out there that are filled with questionable ingredients, but they're not claiming to be pure, natural, green, etc.
Ready to ditch the chemicals? Get FREE access to my natural beauty directory and discover my favourite brands. Learn More
Moreover, there are loads of products available that aren't swimming in genetically modified, pesticide-laden oils and aren't as preservative heavy. Genetically modified crops require more chemicals to grow and sustain. These chemicals affect the people who grow and harvest them, the communities that surround them, and wash into our waterways, affecting life in our rivers, streams and lakes all the way into the ocean causing rapidly growing 'dead zones'. In short, they disrupt our ecosystem and as part of this ecosystem, they also affect each of us - whether we use these products directly or not.
Arbonne has made great strides in improving the transparency and ease of access to the ingredients in their products, but as they continue to promote themselves as planet-protecting, pure and safe, I urge those of you who are consultants and customers to ask for more.
[Update: An Arbonne consultant notified us the day this was published that they they are working on getting their nutritional products certified Non-GMO. There is no word on when this will be complete, or when the same process will commence for beauty care.]
Still wondering if @Arbonne is as pure & safe as they claim...  via @MeghanTelpner #healthwashing
Goal 3: Inspire You
The cosmetic industry is a moolah making industry. The revenue of the U.S. cosmetic industry is estimated to amount to about 62.46 billion U.S. dollars in 2016. It definitely doesn't serve the big guys for us little guys to be using coconut oil as our moisturizer, diluted apple cider vinegar as a toner, or chocolate and avocados as our face masks. We want to look beautiful and in our culture, we believe products are going to be the answer. And we can't get enough.
Cosmetic Usage and Chemical Exposure Stats (via EWG.org)
The average US woman uses 12 personal care products and/or cosmetics a day, containing 168 different chemicals.
The average US man uses 6 products daily with 85 unique ingredients, on average.
Almost 13,000 chemicals are used in cosmetics, and only about 10 percent have been evaluated for safety.
Most cosmetic makers self regulate their own safety studies for FDA approval.
12.2 million adults – one of every 13 women and one of every 23 men – are exposed to ingredients that are known or probable human carcinogens every day through their use of personal care products.
The top most common impurity ranked by number of people exposed is hydroquinone, which is a potential contaminant in products used daily by 94 percent of all women and 69 percent of all men.
There are no studies done on the combination of the average exposure women are getting with their standard beauty routine (we're talking the cocktail of products).
According to the Office of Cosmetics and Colors at the federal Food and Drug Administration, "…a cosmetic manufacturer may use almost any raw material as a cosmetic ingredient and market the product without an approval from FDA."
Reading ingredient labels is the first step, for sure. But it's only one step. The ingredients of ingredients do not need to be labelled (on food or cosmetics). This is how, for example, Arbonne can get away with posting a cologne that has only three ingredients - alcohol, water and fragrance - fragrance being an ingredient that can contain as many as 3,000 different ingredients within it. Sometimes 'ingredients' is another word for synthetic plant derivatives or chemicals.
And so on this part of my mission, I hope my questions became your questions, and not just with Arbonne, but with anything and everything you are using on your body: from brushing your teeth, to your deodorant, to what you paint on your eyelashes, to what's in those tampons, what you use on your skin and what you use to colour your hair.
Every choice counts and if you want to check the true purity and safety of your products, this database has you covered. The database is not perfect but is the best we have to gauge an overview of our products. What I urge you to consider is not just the single products on their own, but the combination of all of the ingredients in all of the products that you use.
I urge you to consider the combination of all of the ingredients in all of the products that you use.
I know that on this front, my job is never done and as I keep digging, I will keep sharing with you what I learn and I appreciate what you continue to share with me.
Are you an Arbonne customer or consultant?
Thank you for pushing Arbonne to post their ingredients and for helping them to lead the way on this front. This is no small achievement. Continue asking for the standards to be raised.
Arbonne is a major player in the cosmetic world. If they can ban GMO oils, and truly start caring for the planet, not by making their packaging recyclable, but by ensuring the ingredients they use are grown and produced in a sustainable way and are truly chemical-free from the soil to the bottle, that products are packaged using planet-friendly materials (from production to decomposition) and by continuing to evolve the products to include more pure and less scientifically manufactured ingredients - then they will really start to elevate both their products and you as leaders in the beauty industry.
Ready to ditch the chemicals? Get FREE access to my natural beauty directory and discover my favourite brands. Learn More
Due to the nature of the comments that are not lending to a constructive conversation, we've closed commenting. Have a great day!