When a photo (not the one above) appeared with a post I had written for The Appetizer, I sent my an email to my editor inquiring about the photo and what the little green bits were (in my nutrition naivete, I thought they were peas). I was informed that in the tradition of Christmas Fruitcake, there are two thing to keep in mind. The first is that no one is actually sure what is in them and the second, no one actually eats them.
So I embarked on a mission to develop a recipe for a healthy, delicious, and most importantly, edible fruit cake and in my research I discovered that those bright green bits were likely jelly cubes (that's not fruit!)
After a few experiments, I do believe I have developed a great alternative. I baked mine as muffins, or Cakettes, and enjoyed them with a generous dollop of spicy pumpkin butter (inspired by this recipe, mine is below). This is a decadent departure from my usual serving of wholegrain porridge, but what a perfectly delicious breakfast indulgence for a relaxed holiday morning.
Though I might be the only person particularly excited over this little miracle of a cake for the following reasons, I will share them anyway. It is 100% grain-free and dairy-free which makes it a delightful treat for those who are gluten-intolerant, lactose or casein intolerant, Celiacs, diabetics and, ironically, this healthy Christmas Fruit Cakette would also be kosher for Passover.
Instead of grain, it uses nut meal or nut flour. I recommend buying the nuts/seeds whole and grinding them in your food processor, Magic Bullet (with the flat blade), or in a dedicated coffee grinder. As this fruit cake is made with real fruit, it is not something that can get passed along family to family, year after year. As with all good food, this one does have a shelf life. Eat up!


This is a delicious spread to put on the fruit cakettes, on toast, or, as I have been enjoying it - on slices of apple.
Fruit Cakette with Pumpkin Butter
Prep time:
Cook time:
Total time: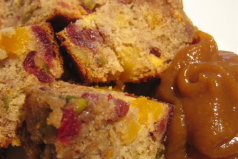 Ingredients
For the Cakettes
2½ cups nut/seed flour (I used 1 cup of almond meal, ½ cup sunflower seed meal, ½ cup pumpkin seed meal and ½ cup coconut flour)
5 eggs
1 orange (zest and pulp)
½ cup apple sauce
½ – ¾ cup honey
1 tsp baking soda
⅛ tsp salt
1 cup organic dried cranberries
½ cup organic dried apricots, chopped
½ cup walnuts, chopped
½ cup pistachios, chopped
(note: you can mix up the dried fruit and nuts. you may wish to incorporate dried apples, currants, mango, papaya, crystlized ginger, hazelnuts, slivered almonds etc… all up to you)
For the Pumpkin Butter
1 small pumpkin, seeded, steamed and pureed (should have about 4 cups after pureed)
1 apple, cored
¾ cup honey
2 tsp ground ginger
2 tsp ground cinnamon
1 tsp ground nutmeg
½ tsp ground clove
Make It Like So
For the Cakettes
Preheat oven to 350.
Grind nuts and seeds and empty into a mixing bowl.
Mix in baking soda and salt.
Blend together eggs and and honey and add to flour mix.
Add zest of one orange.
Take that zester orange and remove the peel. Place orange in blender/food processor and process to a pulp. Add to mixture.
Stir in apple sauce (may wish to add more depending on consistency).
Mix in dried fruit and nuts.
If baking as Cakettes: line muffin tray with paper linings or oil generously and pour batter evenly- will make
Bake for 25-30 minutes
If baking as a whole cake: oil small loaf pan and bake for 40-45 minutes - until firm and golden.
For the Pumpkin Butter
After pumpkin is steamed, blend together with one apple in food processor.
Pour pumpkin/apple mixture into medium size pot and add spices.
Bring to a boil and then reduce to simmer, stirring often (it will bubble and splatter so don't wear your best whites).
Allow to simmer for about 25 minutes or until mixture thickens (should stick on your spoon).
Pour into clean glass jars, give away (or just keep in your fridge for yourself for up to three weeks).