This is health food. Don't believe me? Well it's true. I made these for my sister-in-law last week as she was celebrating her birthday. It was her first birthday as a momma and as all new mommas know, they need all the help they can get,  especially if it comes wrapped in choc0late. Amazingness. I wanted to give the momma of my niece all the best things. I was also playing around with ways to sneak more bee pollen into my diet. Wrap it in chocolate and I'll eat it.
These chocolates are made with 100 percent super food power. Nothing strayed me from that mission and they turned out a work of perfection. See, this is what I am talking about with the new tutorial that will be available on Thursday. Why not make eating healthy, medicinally potent foods in the most delicious ways possible.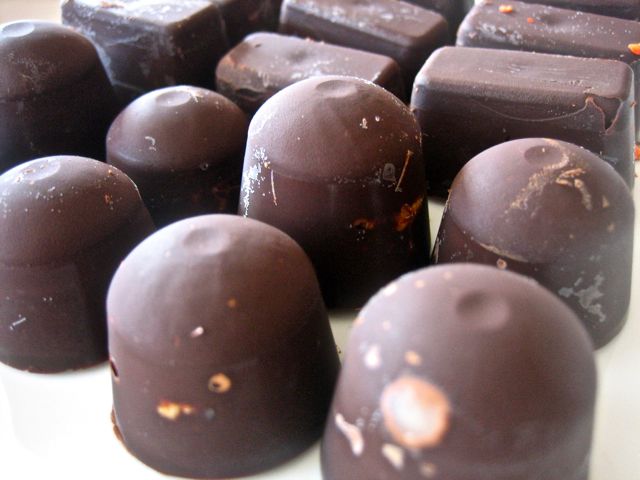 What did I sneak inside these goodies to help power up the new momma and her little crying, pooping, sleeping, eating bundle of love? We've got raw cacao for the magnesium and antioxidants, there is some maca for re-regulating the hormones, some bee pollen for energy production, coconut for some short and medium chain saturated fats- awesome source of energy, a little hemp protein for, well protein, some raw honey for enzymes and sweetness, flax oil for the essential fats and some ground almond for added goodness. I even ground  up some goji and mixed that in there too. I sprinkled on some sea salt for a little extra minerals and lastly, dropped in some peppermint essential oil to aid digestion, and soothe a little. This is super powered healing. Food as the best medicine ever, my lovelies. This is chocolate as medicine. And this is delicious!
Healthy Super-Powered Bon Bons
(You don't need to have all of these ingredients by the way. Just use what you have!)
1/4 cup raw cacao powder
1/4 cup coconut oil
1/2 tsp bee pollen, ground fine
1 tsp maca
pinch of sea salt
6 drops, peppermint essential oil (food grade)
1 Tbs each of:
dried coconut, ground
hemp protein
goji berries, ground
almonds, ground
flax oil
raw honey
Over low heat, melt together roughly 1/2 of the the coconut oil and cacao powder
Using a small ice cube tray with rubber bottoms or a flexible candy mold tray, scoop about 1 Tsp of chocolate into each compartment.
Transfer tray to freezer for mixture to harden
In a food processor, blend together the coconut, hemp, maca goji, almond, flax, pollen and honey and 4 drops of peppermint oil. You may wish to add more honey if you like it sweeter
Once evenly processed, remove chocolate tray from freezer and roll out small amount of filling mixture. If too loose, you can play this mix in the freezer for a brief time to harden it. Place a small amount of filling into each compartment.
Melt the other half of coconut oil and raw cacao together and scoop with a teaspoon over the first layer of chocolate and filling until filling is covered.
Sprinkle with sea salt
Replace to fridge or freezer to harden.
Once hardened completed, pop out of the tray.
Store in the fridge or freezer.