It's a long weekend coming up here in Canada, and a time for people to gather and celebrate the autumn harvest season. There's nothing more healthful than sitting down with friends and family for a home-cooked meal. Eating should be pleasurable, and I always want to feel good after I eat, too. If you're the same, I think these healthy Thanksgiving recipes and tips will help.
If you're hosting, it's super easy to turn Thanksgiving into a health-promoting delicious holiday without becoming the crunchy granola hippie of the family. They won't even notice because the options are soooo good!
Even if you're going to somebody else's house for dinner this year, you can eat to support your optimal health and inspire others by bringing along a delicious dish with you to share. The key here is to make it awesome. Turkey is optional, and in my opinion – soy products shaped into a turkey and seasoned with chemicals is even less optional.
Whether you're playing host or guest this year, follow these tips to keep it nourishing as well as tasty.
1. choose your animal protein carefully
If you're opting for a turkey as the main dish, I recommend choosing a source that is organic and pasture-raised, when possible. Factory farming is detrimental to animals, humans, and the environment. I have a full guide to deciphering meat labels here if you're confused about what about what all those meat labels mean.
If you don't have the time or oven space to cook a large turkey, try roasting a chicken!
If you're rocking it vegan (or not sure if that bird came from an organic, ethical source), load up on vegan options and side dishes instead.
And, if you're hosting this year's Thanksgiving shindig and not keen on poultry, pass on the turkey altogether and try one of these:
---
2. Un-stuff your stuffing
I don't know about you, but a bowlful of blood-sugar-spiking, gluten-filled white bread cooked inside the darkest caverns of a turkey just doesn't whet my appetite. Whip up these gluten-free options (no bird innards required):
---
3. Mash a variety of veggies
Mashed potatoes are old news. You could always swap white potatoes for yams or sweet potatoes instead, but why not shake things up a little at your healthy Thanksgiving dinner? Cauliflower mashes up just as well as old-fashioned potatoes, plus it's easier on your blood sugar and vitamin-packed. Your potato-loving family members won't be able to tell the difference! Or try out one of these other sweet options:
---
4. Un-roll those rolls
Instead of serving white rolls, there are loads of power packed gluten-free and grain-free options.
---
5. make Naturally Sweetened Pies and Desserts
Healthy pie? It can be done! Start with my Gluten-Free Vegan Pie Crust and fill it with delicious seasonal fruit. For more lovely and healthy Thanksgiving recipes for dessert, try:
---
6. Ditch the coffee
Guests expecting coffee along with their dessert? Blow their minds with one of these caffeine-free delectable sippers including:
If you're not into hot beverages, try kombucha or a mocktail.
---
7. reduce your food waste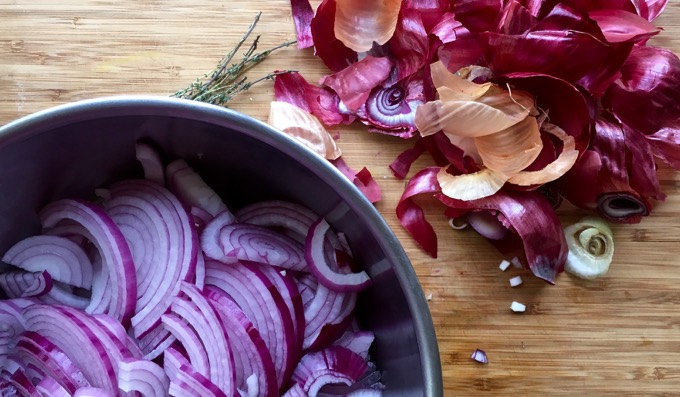 A post-holiday tip: aim to reduce your food waste by using up all your leftovers!
Throw leftover meat or rice onto a salad or into a soup, make croutons with day-old bread, or freeze extras using optimal freezing techniques. If you're not a fan of leftovers, offer food to guests to take home.
What healthy Thanksgiving recipes are you serving this year?