Happy Canada Day my sweet fellow-Canadians and Canadian  lovers! (I know it was yesterday- deal with it!) As you read this, I am likely in the process of doing what many a Canadians do on a long weekend. Going North! cottages always seem to be North and I am heading up to mine for an extended long weekend that might just last me all the way until my best-girlfriend Vanessa's wedding shower mid-month. So in celebration of all things Canadian (including beavers- that's a beaver damn up there!), I am offering a photo montage of some of my fave Canadian inspired recipes. The only qualifier for it to be a Canadian recipe is that 80% of the ingredients must be grown locally in Canada (though my def of local is grown in Ontario 'cause let's face it, Canada is huge and something from New York State is more local than something from Vancouver).
Bon Apetit (as the the French Canadian say)
Kale Chips
Local ingredients: kale!
Strawberry Sorbet
Local Ingredients: Strawberries!
Calfouti
Local ingredients: eggs, yogurt, strawberries, rhubarb (or pear).
Raw Cauliflower CousCous
Local Ingredients: Cauliflower, tomatoes, basil, parsley, red pepper, oregano (and asparagus!)
Wild Leek Soup
Local Ingredients: Wild Leeks, Onion, cauliflower, sweet potato, dill
Egg Salad
Local Ingredients: eggs, celery, onion, fennel, cucumber/pickles, cauliflower

Tomato Salsa
Local Ingredients: tomatoes, bell peppers, onion, garlic
Maple Pumpkin Medley (sorry- we were too excited about our costumes to take a photo of the meal) There is a video though!
Local Ingredients: pumpkin, sweet potato, fennel, onion, maple syrup, garlic
Sweet Potato Dumplings
Local Ingredients: sweet potato, mushrooms, broccoli, onion
Strawberry Kale Salad
Local Ingredients: kale, shitake mushrooms, strawberries, chia (Canadian!)
Strawberry Rhubarb Butter
Local Ingredients: strawberries, rhubarb, raw honey, apple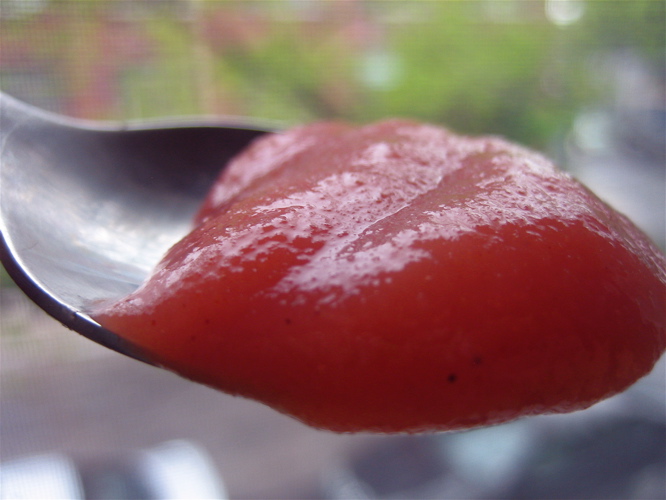 Roasted Vegetables
Local Ingredients: bell peppers, zucchini, onion, garlic, oregano
Question of the day: What awesome food grows locally where you live and what is your fave way of eating it? (if you have links to your recipe, post it here!)