How do you know when a nutritionist came from a career in advertising? When even her flour jars are branded.
Here's another one for you – When is a flour not a flour? When it is made from crazy super high protein and fibre stuff like quinoa and chickpeas. My girlfriend Macy was coming for lunch and I was serving up some fresh salad, a little Soup That Eats Like a Meal, a cilantro pesto, vegetable hummus and knew we needed one more thing.
My best creations happen when my fridge is looking most bare and that was the case for the concoction that became this.
Part of the inspiration likely came from the amazing Ethiopian meal Josh and I had gone nutty over a few evenings before. I made this hot little number in a dry, titanium pan- but do what you need to do to keep things from sticking. The trick is to make it hot and make it fast… That's what I call Making Love In The Kitchen (yes, I walked myself right into this one).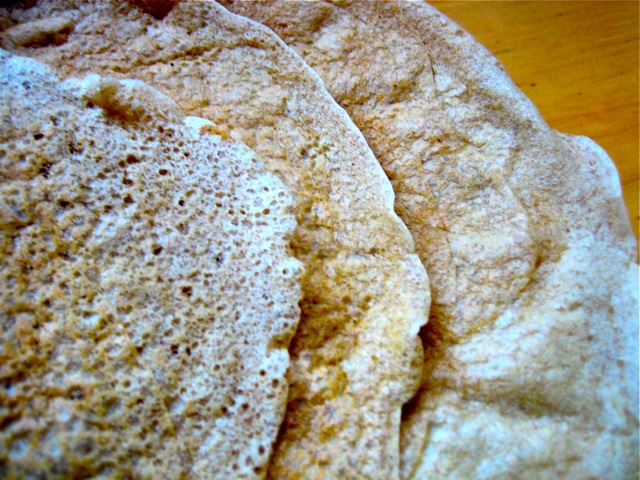 Protein Power Savoury Flat Bread

1/2 cup chickpea flour
1/4 cup quinoa flour
1 tsp sea salt
1 tsp fenugreek, ground
1 tsp cumin, ground
1 Tbs arrowroot flour (helps things stick together)
2 cups of water (add by the 1/4 cup to manage consistency)
1 Tbs of oil
Mix all ingredients together in high powered blender or food processor. Because of all the water, needed to make these guys thin, a regular blender should be a-okay
Turn on stove to high and heat pan. Drop a little water in and see if it sizzles.
Then pour in batter, in a circular motion to cover bottom of pan in thin coating
Let this baby cook.
When nearly dry, and fully bubbled on top, flip it over and give it a quick cooking on the other side.
Can store in the fridge and just heat up before serving.