Like so many others, Halloween is one of those holidays where we throw caution to the wind and stuff our faces with gobs of treats. On the one hand, who doesn't love an excuse to dress up like a cat and play with pumpkins? On the other hand, chowing down on ultra-processed, sugar-packed candy is a one-way ticket to cavities, hormone imbalances and a mean case of the grumps. Conventional candy is loaded with artificial colours, "natural" flavours, refined sugars and hydrogenated palm oils. The good news? There are plenty of homemade healthy Halloween treat options!
But What About the Kids?
We worry about the kids, though, right? We don't want them missing out. I can hear you now: "But I only buy Halloween candy for the kids!" Right. Despite your good intentions, you know that jumbo pack of mini chocolate bars is going to disappear long before the trick-or-treaters come knocking. Besides, don't the little ones deserve some superfood-filled, health-promoting goodies, too? (YES!!!)
There may have once been a time where Halloween was the one time of year where kids ate junk. Now, treats are everywhere. Birthday parties, school events, chocolate or candy from well-meaning grocery stores or local businesses, sports and activities, the list goes on. Even the 'healthy snacks' are basically treats.
Excess sugar in our children's diets is linked to obesity, cardiovascular disease risk, dental cavities and can affect their mental health. This probably isn't news to you – the dangers of excess sugar have been making headlines for years. It's time to stop the processed candy cycle and there's no time like the present!
Instead of stocking up on store-bought candy this year, try making these healthy treats for yourself and the kiddos instead.
Kid-Friendly Healthy Halloween Treats
Dark chocolate almond butter cups
Once you try these, you won't be able to go back to peanut butter cups.
Homemade Fruit Rollups
You will love these easily customizable fruit rollups, with both dehydrator and oven directions.
chocolate turtles
A delicious gluten-free, dairy-free and refined sugar-free alternative to the Turtles chocolate you know and love.
caramel fudge chocolate bar
This extra special chocolate bar is gluten-free, dairy-free and absolutely divine.
gluten-free strawberry licorice
Yes, you can make licorice yourself! This is a 3-ingredient recipe that both kids and grownups will adore.
Chocolate Crispy Rice Squares
Just like Mama used to make (sans marshmallows, of course, and with extra protein to keep your blood sugar steady).
Gluten-free Oatmeal chocolate chip cookies
Can't go wrong with a classic.
Raw Jam + Coconut Thumpprint Cookies
The best part of these Raw Jam + Coconut Thumbprint Cookies is that they require no cook time, so you can enjoy them immediately!
Chocolate Dipped Coconut Macaroons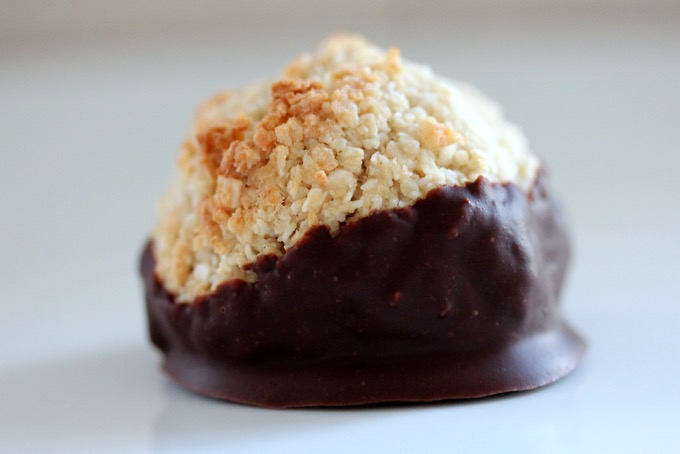 These simple treats are infused with fermented protein powder, and have a healthy dose of fat and fibre.
Vanilla Cacao Bliss Bites
Vanilla is stress-reducing and antioxidant-rich (as if you needed an excuse to chow down on these.)
Chocolate-Covered Figs
Chocolate and figs: two aphrodisiac ingredients for a romantic treat after the kids fall asleep.
Gluten-Free + Dairy-Free Lemon Poppyseed Muffins/Cupcakes
A completely unprocessed and delicious gluten-free, dairy-free lemon poppyseed muffin with lemon cream frosting.
Non-Food Healthy Halloween Treats
Don't want to be the hippie parents giving out dried fruit? Consider handing out some of these fun things:
Stickers
Fun pencils, pens and erasers
Crayons
Yo-yos
Non-toxic removable tattoos
---
What are you making this year to have a healthy Halloween?