The majority of the Culinary Nutrition Expert Alumni are moms and dads, and though this isn't my main area of expertise, I've picked up on loads of trending topics and frequently asked questions. One of the most common lately has been a call out for healthy, delicious, easy and fantastic freezer meals to make for expectant and new moms.
I love how engaged parents become in their food when little ones are on the way. Suddenly they start thinking about doing the very best for their kids and ultimately, this often trickles up to themselves too.
Cooking, grocery shopping, menu planning and eating well can be a challenge for all of us – but especially for new moms, who are up at all hours and may have other kiddlets take care of, too. Sometimes it might seem easier to grab takeout or a packaged meal at the grocery store. Yet eating well is extremely important for new moms and dads. When we're not getting the proper nutrition we need to support us in our daily lives – whether that's raising kids or working outside the home – everything becomes significantly more challenging.
Healthy freezer meal recipes for new moms will have the following awesome qualities:
Nutritious
Fast
Easy
Freezer-friendly
Delicious
And so, today I put together a list of my Top 20 Healthy Freezer Meal Recipes for New Moms – 10 of them are from yours truly, and the other 10 are my faves from around the web.
My Own Recipes
Easy Thai Red Curry
This quick and easy Thai Red Curry is total perfection and can be adapted for vegan and Paleo diets (and anything in between!).
---
Vegan Shepherd's Pie
Packed with beans, veggies and herbs, and covered with an amazing potato-free topping (it looks like potatoes, doesn't it?), this vegan shepherd's pie is freezer-friendly and can definitely feed a crowd.
---
Gluten-Free + Dairy-Free Baked Mac and UnCheese
A family favourite! This recipe is warm, hearty and infused with a ton of veggies, plus it's super popular with the kiddos. Make a double batch and bake one pan now, and stick the other in the freezer for a future fast-food meal.
---
Vegilicious Quiche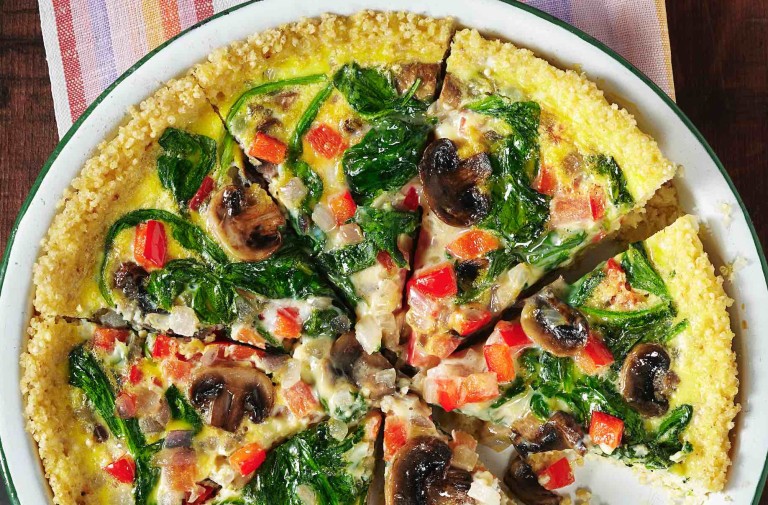 This is a high-protein, high-fibre meal that will keep new moms satisfied for hours. The quiche is a whole grain feat, made of millet, but you can easily skip it to save on time and effort. Plus, there are egg and tofu versions of this quiche AND it's superb for freezing. An all around winner!
---
Grain-Free Almond Bread
I know this isn't a full meal, but with some almond butter, cheese or a heaping spread of ghee, it can sure function as one when time is tight or the appetite is wonky. This grain-free almond bread is hearty, filling, protein-rich and blood sugar stabilizing. It's a favourite amongst everyone!
And a quick tip if time is tight: buy ready ground almond meal.
---
Gluten-Free and Dairy-Free Lasagna
This lasagna takes a bit of work, making it a great one to make before the baby arrives, or to have someone else make it for you! It's hearty, flavourful and can serve as an excellent meal, anytime of day. Extra bonus- it can be enjoyed with one hand if the baby is in your arms.
GET THE RECIPE
---
Vegetable Bean Burgers
This simple recipe turned out to be one of the most popular recipes in my first book, UnDiet. They are at once easy to make, seriously fiber-rich, and deliciously flavourful. They are super freezer friendly and can be enjoyed in a variety of ways!
---
Lemon Lentil Vegetable Soup
This vegan soup is from my days teaching to 10 people in my pink kitchen and I still make it regularly because it's so darn good. It's packed with a variety of veggies, protein-powered lentils and fibre. Perfect for freezing.
---
Gluten-Free Wild Berry Crumble
Okay, so I know this one isn't a meal but it's freezer friendly and incredibly delicious! Any seasonal fruit works beautifully in this recipe (except for melons!), and the crumble topping is a breeze to assemble. This makes a tasty dessert when topped with ice cream, but given how nutritious this is, it can also be eaten for breakfast.
---
Butternut Squash + Coconut Apple Bisque
This vegan soup is so warm, nourishing and flavourful, especially because I roasted most of the veggies before blending them. It goes perfectly with a slice of my grain-free almond bread!
---
Freezer Friendly Meals From Around The Web
Slow Cooker Sweet Potato, Quinoa and Black Bean Chili
Slow cookers are an absolute lifesaver in the kitchen – most of my mom friends swear by them. This high-protein vegan chili only takes 15 minutes of prep (wow!) and then the slow cooker does all the work. (Looking for more slow cooker inspiration? Check out this post.)
---
6-Ingredient Vegan Snickerdoodle Overnight Oats
There is no excuse for skipping breakfast when overnight oats are in the fridge! No cooking required – simply stir up your liquid and gluten-free oats in the evening, then wake up to a delicious morning meal. Top with fresh fruit or dairy-free yogurt for extra flavour and texture.
---
Gluten-Free + Vegan Black Bean Burgers
By Pure Ella
These vegan and gluten-free black bean veggie burgers only take five minutes to prep! Serve them with gluten-free buns or lettuce wraps, crumble them atop a salad or simple eat one on its own. Veggie burgers are great for freezing, too.
---
30-Minute Vegetarian Meatballs
By Pinch of Yum
Made from cauliflower and quinoa, these more-ish vegetarian meatballs can be cooked in large batches and frozen, plus they're the perfect size for toddler hands who want a quick nibble.
---
Gluten-Free Spinach Muffins
By Emilie Eats
It can be tough for new moms (and picky-eating kiddos) to get enough veggies in a day. These gluten-free and vegan muffins help a lot, but they sure don't taste like a salad – especially when you schmear them with nut butter, coconut oil, or jam.
---
Golden Butternut Squash + Chickpea Curry
An Indian-spiced curry packed with bean-er-riffic chickpeas, warming winter squash and a burst of raisins for sweetness. An excellent recipe for batch cooking and freezing!
---
Chicken Zucchini Noodle Soup
Chicken noodle soup is one of the ultimate comfort foods – and bone broth is so wonderful for healing and giving the immune system a boost. If you're not into the zucchini noodles, or don't have a spiralizer, you could substitute your favourite gluten-free noodle instead.
---
Slow Cooker Coriander Lime Shredded Chicken
An eight-ingredient Paleo recipe that you can throw in the slow cooker and then forget about it. Separate it into portions and freeze for when you want a quick and easy meal – serve it in fresh lettuce leaves with avocado and salsa for a grain-free taco, or roll it up in corn tortillas for a quesadilla or enchilada.
---
Chipotle Sweet Potato Turkey Burgers
by Well Plated
A juicy, protein-rich burger that is packed to the brim with shredded sweet potatoes. You can wrap the uncooked burgers and leave them in the freezer for up to three months – a great freezer meal for when you really don't feel like cooking. Pair it with some roasted veggies and dinner is done.
---
Choose Your Own Adventure Gluten-Free Granola
by Sondi Bruner
Gluten-free granola is an amazing thing to have in the pantry for a quick breakfast or snack. Bake double or triple batches and customize with your favourite nuts, seeds and dried fruit – this makes a great gift for new moms (or just keep it all for your own family!).
---
What are your favourite easy and healthy recipes for new moms? Please share in the comments!