I do believe now that I am into my second summer of backyard farming (a term used very loosely), my thumb is getting greener. I am beyond proud to say that I am slowly, but surely learning how to grow food beyond sprouts.
Throughout this learning curve, one herb has stood by my side growing tall and proud (and extremely aggressively): mint. It takes over gardens because it seems to not only be one of the toughest things to kill but also to control in the garden. You win some, you lose some. Though I dream of being the person with more zucchinis and tomatoes and mustard greens than I know what to do with, for now, I am the person with more mint than I know what to do with.
Mint is my specialty!
I planted it a few years ago along with some other herbs, not realizing how hardy this plant is. I didn't take any of the precautions you are apparently supposed to take when dealing with mint, such as creating a root barrier (what is this?) and now I have a wild abundance growing in my garden. Well, it's a good thing for me that I like this stuff. Not only does it taste fresh and delicious, it's also really good for us.
Fun Health Facts About Mint
It activates salivary glands, getting the digestive juices flowing and soothes stomach inflammation.
Eases sensations of nausea and when applied topically, is very useful in banishing headaches.
Helpful when dealing with congestion as compounds in mint aid in opening up the nasal passage as well as those of the lungs and bronchi.
Freshens breath (we all know this one!) and inhibits the growth of bacteria inside the mouth.
Soothes the digestive tract and reducing the severity and length of stomach aches.
Eases the discomfort associated with irritable bowel syndrome.
Slows the growth of many of the most harmful bacteria and fungi.
Can be helpful for allergies and asthma thanks to the well-documented antifungal properties.
Mint contains a phytonutrient called perillyl alcohol, which has been shown to prevent the formation of colon, skin and lung cancer.
I've made a ton of mint tea, minty smoothies and I've even juiced it. I'm trying to think outside the box though and have come up with a bunch of fun ideas in case any of you find yourselves in a similar mint-ful situation.
10 Amazing Things You Can Do With Mint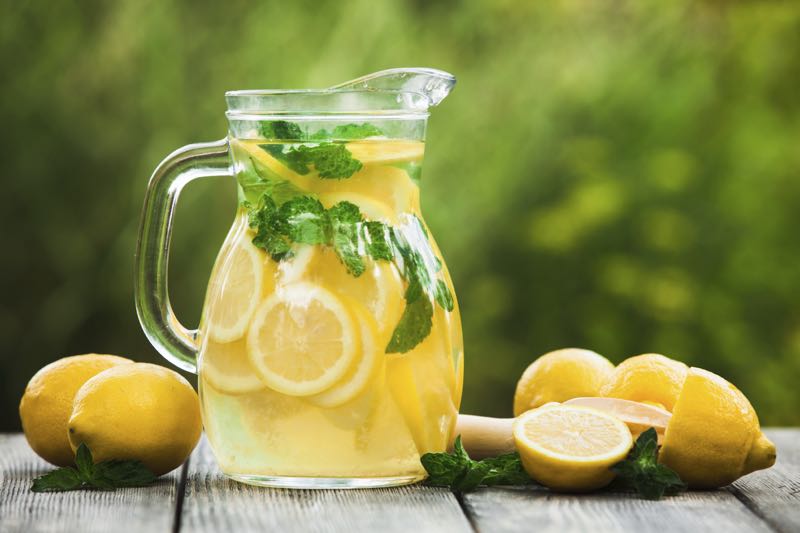 Salad Ingredient: Chop up a few leaves and add them to your salad along with some freshly grated ginger and lemon zest. The flavour combo is amazing and adds a great summery flare to your favourite salad.
Jazz Up Your Water: Flavour your water or lemonade with some smashed mint leaves.

Fancy Ice Cubes:

Adding chopped mint leaves or even peppermint tea to your ice cube tray is super cute and makes for fun summer sipping. Pop these ice cubes into your guests' drinks at a party or into your blender for a minty smoothie.

Homemade Potpourri:

Dry mint leaves in your dehydrator or oven at the lowest temperature. Once dried, chop slightly and put into a little sachet or piece of cheesecloth. Secure with a ribbon and hang on your doorknobs or tuck inside your drawers.
Add To Chocolate: I think many of us can agree that mint-chocolate is a match made in heaven. Take your raw cacao loving to a whole new level by adding a few mint leaves into recipes. My personal favourite is this Chocolate Avocado Pudding recipe with the addition of 4-5 mint leaves.

Chocolate Dip Them: What!? Yes!

Take fresh mint leaves, one by one, and dip them in your favourite homemade or melted chocolate chips and let chill in the fridge until the chocolate has hardened. Amazing!

Juice It:

Mint adds an amazing freshness to any pressed juice. Try it with some apple, cucumber and lemon. You might want to swap the apple for watermelon if you have some on hand. Serious refreshment.

Make A Tea:

Fresh mint, chopped or even just mashed up a little and added to hot water makes a delicious digestive soothing tea.

Tincture It:

Chop up your fresh mint, fill a jar and add some organic vodka to the jar and shake, shake, shake. Shake daily for at least 4 weeks, and then strain out the mint and you have a mint medicine tincture (or a mint-infused cocktail vodka!). More on tincture making here.
Pesto: Need I say more? It's a summer classic that you can use as a sauce, for dressing, dips and spreads.
Please enjoy this delicious and fresh basil mint pesto, as just one amazing way to use this easy to grow herb.
Print
Basil Mint Pesto
---
Author:

Total Time:

15 mins

Yield:

2 1/2 cups

1

x
Description
A simple and fresh dairy-free mint pesto recipe. Perfect for summer!
---
1/4 cup

walnut halves

1 1/2 cups

basil leaves

1 1/2 cup

fresh mint leaves

1/4 cup

olive oil

1/4 cup

sunflower seeds

2

cloves garlic

2 teaspoons

lemon juice

1/4 teaspoon

salt
---
Instructions
Toast the walnuts in the oven or pan for 5-10 minutes, turning occasionally.
Combine the basil, mint and oil in a blender until smooth.
Add the toasted walnuts, sunflower seeds and garlic and blend until puréed.
Add the lemon juice and salt and blend once more.
It's now ready to be used or stored in the fridge in an airtight container or freeze in an ice cube tray and transfer to a freezer-safe container to use later.
Prep Time:

15 mins

Category:

Condiment
Photo Credits iStock
Lemonade: oksix
Mint Bunch: Murika
Pesto: Boyrcr420