When the temperature drops, there is nothing better than slow cooking some fresh, warming, life affirming food. And that is what inspired today's five ingredient winter wonder: red onion soup.
French onion soup as most of us know it is a super healthy soup that is then topped with a thick slice of bread and cheese. The bread and cheese always grossed me out. I was never into wet bread.
The very last time I ever ate French onion soup was when I was eight years old. I remember because it was a rather traumatic weekend, and that's how memory works. It was the summer before my family moved to Toronto and the company that was transferring my dad to Toronto had put us up at the Four Seasons Hotel. Fancy pants city. My parents were being taken out for dinner and my brother and I, and I assume a babysitter, were left in the hotel room to order room service. As an eight-year-old with a very mature palette (see Memories of Martini's Fettuccini, Page 163 in The UnDiet Cookbook), I opted for the French onion soup. As I came to associate that dinner with the news that we were going to be uprooting and moving from Winnipeg to Toronto, I never touched the soup again.
And so, nearly 30 years later, we are reunited. Some things are just too good to part with for life.
Why This red onion Soup Is Important
It's easy when you enter the health world to get caught up in all the talk of the superfoods from far off lands that hold magical powers. In the early days of my work in this field, I was guilty of being part of that hype. Now, there is nothing bad about those superfoods in any way. They are mighty, powerful and concentrated doses of nutrition. It's also important not to forget the cheap and cheerful superfoods that are in season and grow where we live. I'm talking about the kales, the cabbages and, in this case, onions.
Onions are a superfood!
The more pungent an onion is, meaning the more it makes you wince, cry and cry some more, the higher its ranking on the nutritional scale. That being said, onions as a family in general are a powerful addition to every farmacy!
Health Benefits of Onions
The phytochemicals in onions improve the effectiveness of Vitamin C in the body, helping boost vitamin C's work as an immune fortifier.
Onions contain high levels of chromium, a macronutrient which assists shuttling sugars into the cells, thus being beneficial for stabilizing blood sugar.
Onions have powerful anti-inflammatory benefits.
Quercetin, a powerful phytnutrient in onions, is known to play a significant role in preventing cancer and also helps keep seasonal allergies at bay.
Onions scavenge free radicals, thereby reducing your risk of developing gastric ulcers.
The Best Onions for Red Onion or French Onion Soup
You can make this red onion soup with any type of onion, in my opinion. Traditionally, a French onion soup uses white onions, but I had purple on hand (I always buy purple onion and purple cabbage for the evidence-based reason that they are just prettier).
The key to bringing out the sweet flavour is caramelizing the onions. This step does take time, but doesn't require too much attention so don't let it deter you.
Also remember that the body knows best. This red onion soup has an incredibly strong flavour, matching its nutritional power. The body will often tell you when it has had enough and so this soup is best enjoyed in small portions.
Print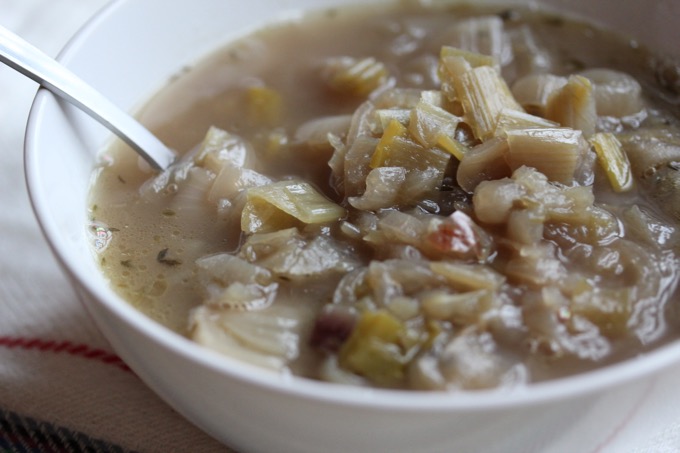 Grounding Red Onion Soup
---
Author:

Total Time:

1 hour 30 mins

Yield:

6

servings

1

x
Description
A simple vegan red onion soup recipe using only five ingredients.
---
4

–

5

medium sized onions of any kind (I used a combo of red onions, white onion and

1

leek)

3 Tbsp

ghee or olive oil

3

sprigs of thyme

1 tsp

sea salt + more to taste

5 cups

water or homemade stock
---
Instructions
Peel and slice onions into thin, half moon strips.
In your Dutch oven or stainless steel pot, warm your ghee or oil.
Add onions and thyme, and salt and let cook down and caramelize uncovered. This can take anywhere from 45-60 minutes on medium/low heat. Keep your eye on it as different stovetops will require different settings. Stir occasionally to keep from burning.
Once cooked down (and they reduce substantially), add your water/stock, cover and simmer for 30 minutes.
Add more salt if needed to taste and serve hot.
Prep Time:

10 mins

Cook Time:

1 hour 20 mins

Category:

Soup

Cuisine:

Real Food