As I write this, I have an eleven-month-old son. To say that my morning and evening routine has changed since he arrived would be a minor understatement. At the same time, I am absolutely okay with this– 95% of the time. (I mean, honesty, right?) This is a brief time in my life and I know from here on out, as long as I have someone else to care for the evolution will be continuous. So much of motherhood feels like one giant experiment, and there is always so much curiosity about how other people are doing it.  I thought I'd offer a glimpse into how I'm balancing life and work, starting with my morning and evening routine.
Sometimes in my imagination, I live in two parallel spaces– one which is here and now, and one where I am still able to do my full 2-hour morning routine. Alas, one universe, one morning.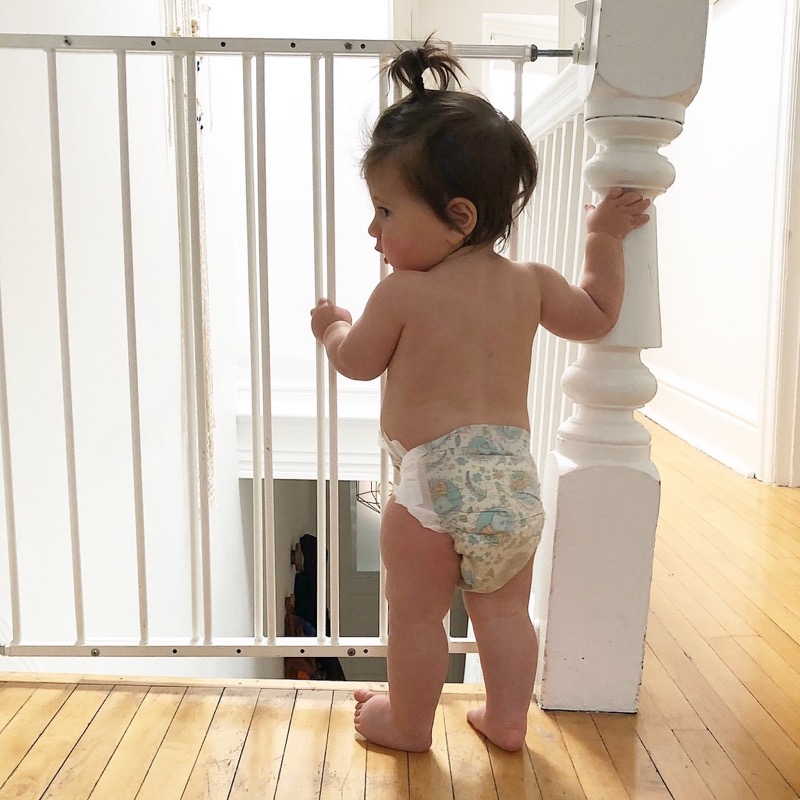 I am a mom. I have my own business and I work full time with a staff of four, plus a nanny. I guided our nanny through the Culinary Nutrition Expert Program in her first few months with us. She cares for my son during the hours I'm working, and when I'm with the little one, she takes care of food prep, some cooking and cleaning (she also did our Healthy at Home Course). I prepare all of my son's meals from scratch, and we eat all of our own meals at home too. I meal plan, I prep, I plan some more. There are a lot of checklists in my life; It helps keep things out of my head and empowers others to own their area of responsibility– both at work and at home.
One thing that I have maintained as a non-negotiable is that I make time for self-care in the chaos. Though it took a good six months with my son to make it regular, I strive for 30 minutes every day that is just for me. This 30 minutes may be an actual yoga practice. It might be a nap. It may be 30 minutes in the car, driving somewhere. Often it is choosing not to drive and taking 30 minutes to walk to work and back.
My Morning and Evening Routine Are Not What They Used To Be
I am sharing what I have been able to make possible. This is not to judge or discredit, or cast guilt on what others do. And I expect the same kindness is granted back to me. (Have you also found that often the meanest comments and the most judgement comes from other moms?) This is about my morning routines and today this is what it is possible for me.
Like many of you, I listen to podcasts and one of the most common questions of high performing individuals is about morning routines. I never thought twice about what this question implies until I was about 41 weeks pregnant and realized that the optimal morning routine we hear described by highly successful people is one that doesn't usually require feeding, changing or dressing anyone else. I once had mornings like that.
Prior to having a child, my day started with my lemon water, meditation, and then some form of movement– whether it be indoor yoga, an outdoor walk or bike ride, or on the very, very rare occasion I'd catch an early morning pilates class (I mean, seriously rare!). I'd follow that up with a sauna if time permitted, otherwise I'd go straight into breakfast, dry-skin brushing, shower and then off to work. My simple and achievable two to three hour morning routine. Today, this makes me laugh. When I look back on that version of my routine it seems like a holiday!
Now? Now what does my morning look like?
The Reality Of A Morning Routine with a One Year-Old Baby
Let's start by saying that I am pretty sure that we have not had two mornings exactly the same in the last year. It's very dependant on when my little man wakes up. Lately, his day starts anywhere from 5:30 am to 6:30 am (sleep-in city!). Though he's doing well on the sleeping-through-the-night front, it's taking me some time to get used to not waking up every two to three hours.
There are a few key factors that make my morning routine possible. I have just one child. My husband and I both have our own businesses that are past the ten-year mark, and so we have systems and teams in place that provide us with a little more flexibility. In order to keep our businesses going, we have in-home childcare for our son during the week. We worked to ensure all of this could be possible.
My Morning Routine
6:00am: Wake up and nurse
6:30am: Force snuggle our little man until he can't stand us and then we all get up. Meanwhile, this is usually when my husband gets in his workout.
7:00am: Prepare breakfast for the baby and me
7:30am: I take my time to get movement in (aka "me time"- lately 30 minutes of yoga)
8:15am: Playtime, a family walk, or a jaunt to the playground near our home.
9:00am:  Nurse the baby
9:15am: Put him down for his nap
9:30 am: Prep the baby's meals for the day, plan for our own dinner, and pack my lunch
10:00am: I shower (similar to running through a sprinkler), dress (only if I'm leaving the house) and settle into work.
I work from home two days a week, and in the office with my crew three days (at this point my in-office hours are 10:30 – 4ish).
And that is how the morning goes down.
I generally get home as he's waking from his afternoon nap, or if I am home, I am in the next room and getting him from his naps is one of my most favourite things.
The Reality of an Evening Routine with a One Year-Old
Once again, as I write this I think about LBB: life before baby. It was different. Not better or worse, just completely different. I used to finish work by 6:00pm and then head to a pilates or yoga class, and be home in time to have dinner at around 8pm. Sometimes I'd just work through until around 7. If I left work by 5:30, it felt like an early day. I did this five days a week for the last four or five years. In the first five years of my business, or when I was in the book writing process, often weekends and evenings were thrown into the mix.
I am telling you this because now, somehow even with a little one, my evenings feel longer and way more free.
My Evening Routine
5:00pm Give the baby dinner while I cook our own (cannot wait until meal times align!)
5:30 – 6:30pm Family playtime
6:30pm – Bath time (always a family affair)
7:00pm – Bedtime
7:30 – Dinner for us
8:00 – Wind down time– a bath, TV show, or catch up on any work that we didn't get to
9:00 – Get ready for bed
10:00 (or earlier!) Lights out
Weekends we reserve for family time. We each have done a handful of events, but realize that it takes away from the time we can spend together. We aim to have minimal weekend obligations and spend our time together playing, eating, going to the park, running errands in our neighbourhood, listening to music, cooking, and lately, porch sitting.
We're keeping life simple. As I said earlier– this is a brief time in our lives where our boy wants to be with us most of all, and we, in turn, want to be with him. We aim for our time together to be quality time. Though I know we could divide and conquer more and allow for more time and space for our own things, right now, we just want to be together, as a family. I have come to learn very quickly that between running my business, consciously parenting, maintaining our health practices, and keeping ourselves and each other happy, I can "have it all". What's changed most dramatically, though, is what all is to me. I have declined a lot of opportunities and invitations in the past year but I don't think of it as saying no. Instead it is my choice to say yes to something else.
What I say yes to is different than it was ten years ago, or five years ago or even one year ago. I had been told that it all changes when a baby arrives and I also got a lot of "you'll see" about our plans and intentions for how we wanted to model our life and raise our child. Those plans and intentions take effort every single day.  I accept what's possible, what isn't, and appreciate and respect my own limitations. Maintaining our morning and evening routine takes effort. We have learned, at least for now, not to plan much beyond today. Tomorrow, the routine that worked today may go completely upside down.