You may not know this about me, but I get excited. Very easily. I get excited about good things, and get excited (and slightly outraged) about the bad things. And the first thing Josh will often say to me is: "Step 1: Calm down." This is an important step for self-care amongst the chaos, whether it's in the world around us or self-created in our own minds (way more common than we like to think!).
Let's pretend for a moment that 'calm down' was our daily motto that we use when we wake up, before we have our breakfast, before we get in the car, before we start our work, before we speak to our children when they're misbehaving…You get the idea.
What if we always went with the practice of Step 1: Calm Down, taking one big breath? This is not the breath that stays in our chest and brings our shoulders to our ears, but the kind of deep breath that invites our belly to fill and rise, and then fall as we exhale out the tension and aggressive reactions to which we've become accustomed.
Our lives are busy and fast-paced nowadays. Between family, work, activities, cooking from scratch, volunteering, school, or multiple other obligations, many of us are constantly handling challenges and feeling stressed about it too. Due to the current global circumstances, we may be dealing with additional stressors that cause excess worry or fear. Amid the hustle and bustle, it's important to make an effort to practice self-care so we don't burn bright and then burn out.
Truly satisfying self-care will leave us rejuvenated and ready to take on new challenges – not feeling weighed down or overwhelmed.
Comforting and nourishing self-care in amongst the chaos takes practice and it gets easier the more you do it. Self-care isn't a boring chore – it's about doing the things that you truly enjoy that will make you feel awesome. We could all use some more of that, right?
And so, I thought I'd share my essential steps to practicing self-care in the chaos – along with some incredible resources and recipes to help you make it happen.
5 Steps For Self-Care In The Chaos
1. Prioritize self-care.
With all of the life shenanigans happening, it can be tough to carve out the time for yourself. The first step to creating the space for self-care is, well, creating the space for self-care! Make time to do the things that nourish you the most by scheduling them into your calendar. You don't need to program a gazillion self-care hours into your day – even 5 minutes can be enough to ground you and fortify your mental health.
Self Care Resources:
---
2. Have some quiet time.
For many people, self-care is intricately tied to being with loved ones. And yes, the people we love the most are usually the same people who nourish us from the heart outwards. Still, it's important to spend a bit of time on your own to reflect, to meditate, to take a bath, to journal, to have a cup of tea or a smoothie, or just sit in silence (the toughest thing of all!).
Self Care Resources:
---
3. Communicate your self-care needs.
Family and friends may feel like they're getting the brush-off if you trot off to the movies or want to take a walk on your own. Intercept arguments or hurt feelings before they happen by explaining that you need some time to yourself. Desiring space on your own (and on your own terms) is not selfish; it allows you to recharge and return to group or family activities rested and invigorated.
And you never know – other people in your home may feel the same way, but have been afraid to say anything! Expressing your needs for self-care just might inspire other loved ones to take the plunge into self-care, too.
Self Care Resources:
Download and enjoy your FREE Awesome Life Decision worksheet. Learn More
---
4. Practice self-care activities that you love.
If you hate meditation, don't do it! Self-care is an individual process and each one of us will enjoy different rejuvenating activities. Don't feel pressured to go to yoga or sit on a meditation cushion surrounded by crystals because that's what you think self-care means.
Here are some of my favourite self-care activities that may spark your interest:
These are just a small slice of some gentle activities that promote our self care, but yours may be totally different! Here are 45 other simple ideas that you may enjoy, or come up with your own!
Self Care Resources:
---
5. Support your body with good food.
Self-care is inherently a process for the mind, emotions and soul, but consuming good quality food and herbs to support the mental processes is important, too. There are a multitude of ingredients that can nourish the nervous system, relax us and facilitate self-care so it's more effective.
Aim to eat a wholesome diet full of:
When we fuel our bodies with nutritious food, we feel better physically and mentally and are more prepared to take on what life has in store for us.
Self-Care Resources:
---
When You Just Need Comfort Food…
Sometimes, when stress and chaos hits, the best self-care is nutritious comfort food. Here are a few of my favourite gluten-free, dairy-free and nourishing comfort food recipes.
1. Chocolate, Chocolate Say It Twice Pancakes
A deliciously decadent gluten-free pancake recipe from the award-winning UnDiet Cookbook. These make breakfast much more awesome!
---
2. Easy Thai Red Curry
A super quick and easy Thai red curry that you can swing vegan or Paleo, and is a great broth for whatever veggies are lingering in your fridge.
---
3. Fruit Rollups Made Healthy + Delicious
Homemade fruit rollups? Yes please. These are incredibly easy and can be made with any in-season fruit.
---
4. Gluten-Free + Dairy-Free Lasagna Magic
When you combine gluten-free noodles, from scratch dairy-free ricotta 'cheese' and a simple homemade tomato sauce, you end up with healthy lasagna magic.
---
5. Baked Mac and UnCheese
Mac and cheese is one of the most popular comfort foods – but this gluten-free and dairy-free version is packed with vegetables and protein, and is actually great for you! This one is super popular with the kidlets.
---
6. The Best Pumpkin Spice Latte Recipe
Skip the coffee shop and cozy up with this unprocessed dairy-free pumpkin spice latte instead.
---
7. The Best Baked Kale Chips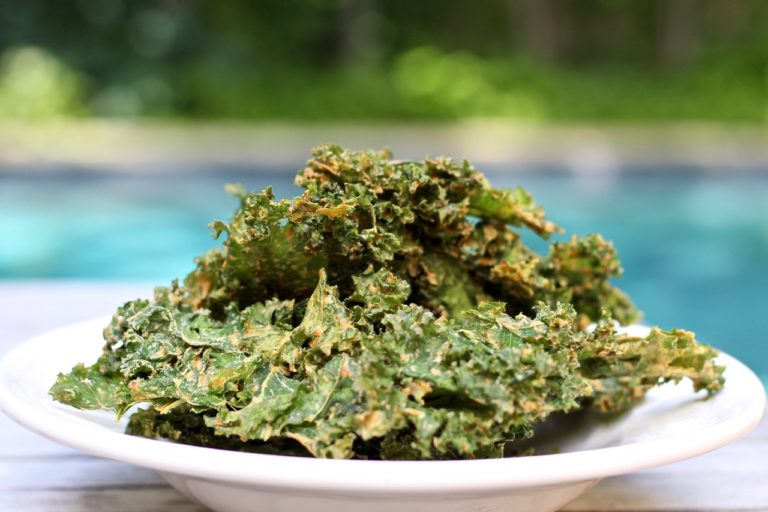 Kale chips are so crispy and addictive – if you use the right recipes and techniques! Grab my 8 favourite kale chip recipes and my tried and true tips to bake them perfectly.
---
8. Vegan Celery Root + Apple Soup
Root vegetables like celeriac are warming, grounding and filled with antioxidants, making them delicious and self-care supportive options. Check out this bright celeriac soup with some seasonal apples blended in.
---
9. Gluten-Free Oatmeal Chocolate Chip Cookies
Chocolate chip cookies are the ultimate comfort food, no? With less sugar and no gluten or dairy, this version is one of my go-tos when I need a little cookie love.
---
Remember friends, you got this. 1982 Meghan says so!
(Featured Image: Nikki Jumper)