And here I have for you, a brand shiny and new spice infused turmeric tea recipe using loads of anti-inflammatory herbs to keep inflammation down and the immune system healthy. One of the most popular posts and recipes I've ever written (besides the ditty on Arbonne), was a sleeper hit about an anti-inflammatory turmeric tea recipe I had been introduced to while running a retreat in St. Lucia. And for great reason! Inflammation is running wild in our bodies these days, leading to all kinds of seemingly disconnected symptoms, from joint pain to food allergies to digestive troubles. Turmeric's active ingredient curcumin is one of nature's most powerful anti-inflammatory herbs.
With the holidays upon us, I thought I'd kick it old school nutritionista-style and remind you that while living the Awesome Life is about more than just we eat – what we eat still counts a whole heaping spoonful of a lot. And so, I present to you the benefits of this simple and delicious tonic, now upgraded with the addition of loads more powerful herbs.
The Health Benefits of Turmeric
Antioxidant: Curcumin has the ability to quench free radicals that can cause mutation in our DNA.
Cancer Preventative: The cancer-causing effects of cigarette smoke, barbequing, and smoke of any kind are suppressed by curcumin.
Anti-Inflammatory: Curcumin's anti-inflammatory powers are as effective as phenylbutazone and cortisone without the side effects.
Liver Protective: Curcumin has been shown to have a protective effect on the liver and is incredibly effective at increasing bile release, which helps with fat digestion.
Super Brain Function: Curcumin greatly reduces the rate of mental decline.
Kills the Bad Guys: Curcumin has anti-microbial properties that fight the nasty guys such as Clostridium, Streptococcus, Entamoeba histolytica, and several pathogenic fungi.
Most often, we enjoy turmeric when flavouring (and gorgaliciously colouring) our favourite Indian curries. Turmeric is what gives these dishes that orange glow (and it unfortunately stains your counters and blender). You can also find it as a whole root, if you're lucky to live somewhere where that's available, but most often I use the dried, powdered version.
Turning Turmeric Tea Into A Tonic
To craft up this new powerhouse drink, I added some other top notch anti-inflammatory herbs to the mix including cloves, cardamom seeds, goji berries and a pinch of cayenne. I tossed in the power fat hemp seeds for their anti-inflammatory omega 3s, as well as organic clarified butter (also known as ghee) for its gut-healing and nervous system-fueling medium chain saturated fats.
Fat is a pretty important part of any herbal tonic. See, herbs have different medicinal components to them, some of which are water soluble and others that are fat soluble. When you add a shlop of fat to your herbal bevvys, you're getting the best of both worlds – the full medicinal kapow. And you could always use coconut oil if you kick it vegan.
I sweetened the brew with a little dollop of raw honey. This is truly culinary nutrition at its very, very best – something that tastes super amazing, and fuels every cell of your body with bullet proof health.
The colour of this blend is something super special!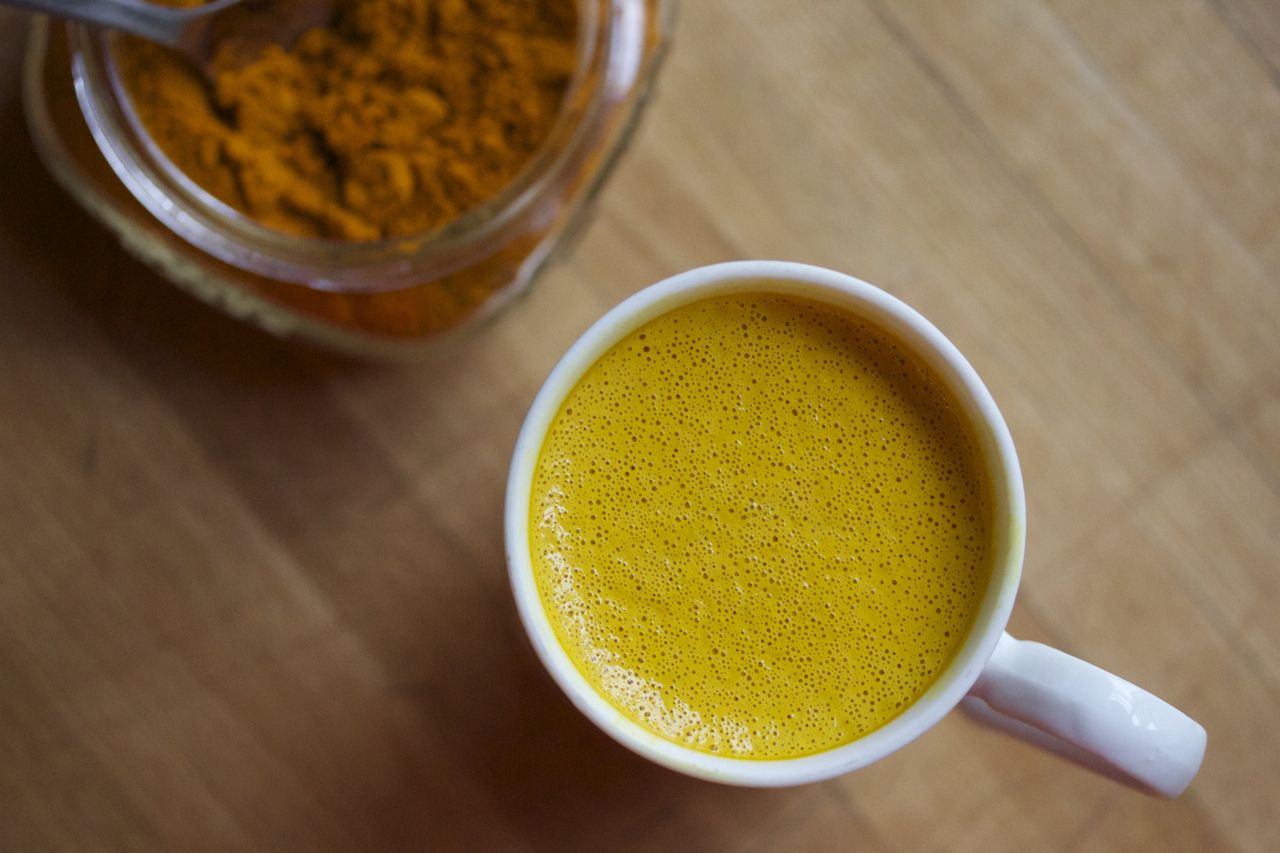 And this, my friends, is the new and improved, next level, bullet proof Turmeric Tea Tonic recipe. Drink it in the best health ever!
Print
Turmeric Tea Tonic
---
Author:

Prep Time:

3 mins

Total Time:

3 mins

Yield:

1

serving

1

x
Description
An anti-inflammatory elixir for immune health.
---
1 1/2 cups

hot water

1/2 tsp

up to 1 tsp turmeric (work your way up!)

1/2 tsp

cardamom seeds

1/2 tsp

whole cloves or

1/4 tsp

ground
pinch of cayenne

1 Tbsp

Goji Berries

2 Tbsp

Hemp Seeds

1 Tbsp

Ghee or Coconut Oil

1 Tbsp

honey, or to taste
---
Instructions
Blender Method
Place all ingredients in your high speed venting blender and blend until smooth.
Pour through a fine mesh sieve and enjoy.
Stove Top Method
Place water, turmeric, cardamon seeds, cloves, cayenne and goji berries into a pot and simmer for 20 minutes.
Strain out liquid and allow it to cool, then blend with hemp seeds, ghee and honey. You may choose to put this back on the stove to heat to desired sipping temperature.
Category:

Drinks + Smoothies