As we get more and more engaged in this healthy vibrant lifestyle, things we used to take at face value and accept as the norm, may no longer be normal or okay enough for us. While there are a growing number of options when traveling, it can still be a challenge to maintain health in a traditional travel environment. These healthy travel tips can help!
I once commented to a friend saying I wish I could just pack a bag and hop a flight for the weekend special at an all inclusive resort, but for me, that option is no longer an option. Knowing that the per guest food budget is usually around the $5 mark, makes me question what I'm eating, and how the staff are treated. The chemicals used in the cleaning products from what is sprayed in the bathrooms to what the sheets and towels are washed in are the things I like to avoid.
I also don't like having plastic bottled water as my only option for drinking, or sitting on my balcony to find others on theirs smoking. And so it goes.
For most of my life, I didn't think twice about these things. I now think a lot about them.
This has not stopped me from travelling however. It has simply changed how I travel, where I go and what the focus of my trips are. The simple goal for all my travel is that I want to return home feeling more refreshed, inspired, rested and restored than when I left. Simple. This goal doesn't waver even when my travel is for business. When I travel for biz – there is always time for UnDiet living sweetness.
Years ago, I stayed at a very special place called Casa Bianca (pictured above). An estate house, that temporarily lived its life as a hospital, that has since been restored and converted into a guest house. I loved it because:
They have a focus on supporting the health of their guests.

They offer organic breakfasts as part of your stay.
They use organic bedding and organic cleaners.
The soaps provided are all natural and made locally.
It has windows that open! (This should be mandatory in ALL hotels and it's not).
There are no air fresheners or other chemicals sprayed about the place.
The shampoo they offer is in large glass pumps that they can refill, rather than mini disposable plastic bottles.
It is right across the street from a park and they offer delightful walking and bicycling tour ideas.
They have a kitchen that guests can use.
Check it…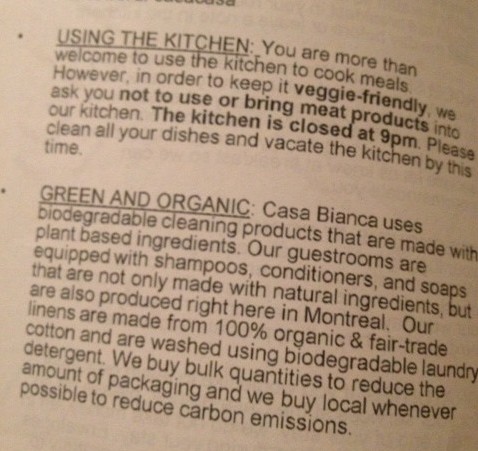 Now that list might seem mighty long, but when you think about it, it's actually not that tough to find as often all of those factors roll right on in together!
The strange, unique and special spots I have laid my head while travelling is all part of the experience for me. The Holiday Inn just isn't my thing.
One of my most favourite quotes from my friend Scott, a photographer I met on a random island in Fiji in 2002 is this:
"Travellers don't know where they're going. Tourists don't know where they've been."
To actually break this down, I will offer you my five main healthy travel tips for truly having a healthy holiday!
---
5 Healthy Travel Tips
1. Stay Somewhere With A Kitchen
This is a non-negotiable for me at this point. With so many options via AirBnB, HomeAway and VRBO, you can find an affordable, comfortable spot to stay anywhere in the world. With a kitchen you are able to:
Save loads of money by enjoying simple breakfasts at home
Have a place to prep snacks and/or picnic lunches
Where appropriate, get to enjoy the local market freshness and prepare beautiful meals in really fantastic spots
Ask questions about who you are renting from – is there a blender, pots/pans, food storage containers, a cooler – and plan accordingly
2. Find Your Spot To Shop/Eat
Before you leave home, do a little searching around the area you'll be going to.
Map out a few key restaurants you want to try out.

Look for the nearest health food store and/or supermarket to stock up on fresh produce.
Check out the local farmer's market schedule to make sure you include it in your itinerary. This is also a great way to connect with the local community and find out about local events and attractions.
3. Bring Your Own Healthy Travel Staples
This list may seem lengthy but once you get the travel staples, it's really not. Even bringing all of these essentials, I can still travel for weeks at a time with carry on only. It's one of the most awesome things about using all natural filler-free products. You often require only tiny amounts to get the job done, whether it's a dropper full of laundry soap or a single drip of oil to moisturize your whole face.
Bring your own refillable water bottles.

Bring your own soaps and shampoos if they're not providing the good stuff.
Bring your own small laundry soap.
Bring your own sheets if you're super sensitive to detergents.
Bring your own shower filter. What !?! Okay – consider this optional. If, like me, you react to chlorine and use a filter at home, it won't take much for your skin to catch fire under the chemical if you're not used to it.
Discover more about my travel essentials right here.
4. Be Snack Ready
Unexpected things often come up when we travel – whether it be delays, weather challenges or just plain old getting lost. Always have a few snacks prepped and ready to go.
Trail mix – a must have. 

Granola – the recipe in UnDiet is always my go to.
Dried fruit or homemade snacks like these fruit roll ups.
A few packaged food bars. I love the Raw Food Bars!
A greens powder. Any which one will do. This is great to add to water in a pinch if you need an extra boost or a good starter if you don't have a kitchen but need something to get going in the morning before your full breakfast.
Elixir and/or your favourite teas. These are nice extras to have and can make any place feel like home.
Find more meal and snack ideas for travel here.
5. Get Sorted On Your Activities
Healthy holidays are going to include action! Know what you love, what you want to try and bring the right shoes and ensemble to make sure nothing stands in your way. Seeing places by foot and bike are some of the most interesting, freeing and fun ways to explore a new place. You may not go the same distance, but you'll certainly remember where you were!
Look out for bike rentals and/or tours (and know if you need to bring a helmet – safety first).

Local hikes, self-guided or with a tour.
Yoga fun in wild locations (a personal fave).
Take public transit (where safe) as a great way to meet people and take the scenic route.
What are your healthy travel tips?