Food marketing is a tricky business to wade through for consumers, even if you are knowledgeable and savvy. There are so many ways food packages can trick us, from false health claims to packaging visuals to dietary labels like gluten-free, keto, Paleo, organic, natural, and more. There is an overwhelming abundance of packages that line store shelves and the labels are confusing, especially to those trying to be health-conscious and aiming to do their best for themselves and their family. I recently asked my community for some of the most ridiculous claims they've seen on products. These healthwashed products are both brilliant and creative and also just plain old junk food wearing a mask made of trace amounts of cauliflower and a touch of collagen.
But guess what? It isn't just junk foods that are hopping on the health bandwagon to sell their products. Often, it's the foods in the 'natural' section of the store that have label claims such as organic, gluten-free, non-GMO that might lure consumers to believe the products are healthy. As I've said before, the ingredient list is going to tell you everything you need to know.
You might ask, 'But Meghan, aren't eating organic Doritos a better choice than regular Doritos?' Relatively speaking, I suppose they could be. Just as smoking five cigarettes isn't necessarily as bad as smoking ten. It doesn't make either option optimal, however. Product A being slightly better than Product B doesn't automatically make Product A optimal for our health. This is my main issue with healthwashing. If someone wants to eat chips or cake or cookies or popcorn or whatever else, that's their choice and I can't fault them for trying to find the best store-bought option out there. My problem is with the companies who are trying to convince consumers – many of whom are far too trusting – that a product is healthful by using health buzzwords and trendy ingredients when it's really not.
Eat your chips with your eyes wide open! But don't consider them a serving of vegetables (and for the record, a processed pea protein burger? Also not vegetables.)
This is only a smattering of the healthwashed products that are out there. I hope that by breaking down the claims, you will feel savvier and empowered to read labels when you are shopping at the grocery store.
Organic White Cheddar Doritos
Ingredients: Organic Yellow Corn, Organic Expeller-Pressed Sunflower Oil, Organic Cheddar Cheese (Milk, Cheese Cultures, Salt, Enzymes), Organic Maltodextrin (Made from Corn), Sea Salt, Organic Sweet Cream Buttermilk, Organic Tomato Powder, Flavors, Organic Onion Powder, Organic Romano Cheese (Cow's Milk, Cheese Cultures, Salt, Enzymes), Organic Butter (Cream, Salt), Organic Skim Milk, Organic Spices, Citric Acid, Organic Garlic Powder, Organic Cream, and Lactic Acid.
The 'Health' Claims: Organic, No Artificial Flavours, Colours or Preservatives
Why This is Healthwashing: There are multiple different kinds of cheese in this product and even though they might be organic, dairy isn't a health food and is linked to a wide variety of inflammatory health conditions. This product also contains sunflower oil, a cooking oil that is not ideal, as well as the very ambiguous 'flavours' that you can read more about here. And, let's face it – these are still Doritos. Organic or not, chips are still chips.
What to Try Instead: Slice gluten-free corn tortillas into wedges, toss with olive oil, nutritional yeast, and salt, and bake until crispy. You can also add herbs or spices.
---
Annie's One-Pot Pasta Pizza Mac with Hidden Veggies
Ingredients: Organic Pasta (Organic Wheat Flour), Parmesan Cheese (Cultured Pasteurized Part Skim Milk, Salt, Non-Animal Enzymes), Tomato Powder, Organic Corn Starch, Cauliflower Powder, Nonfat Milk, Salt, Organic Cane Sugar, Garlic Powder, Organic Ground Fennel Seed, Silicon Dioxide (For Anticaking), Onion Powder, Organic Ground Basil, Organic Ground Oregano, Citric Acid, Paprika Extract (For Color), Organic Annatto Extract (For Color), Sodium Phosphate, Natural Flavor, Lactic Acid.
The 'Health' Claims: Organic, One-Pot Meal, Kid-Friendly, No Artificial Flavours or Synthetic Colours, 1/3 Cup of Hidden Veggies per serving
Why This is Healthwashing: The 1/3 cup of hidden veggies per serving claim truly bugs me. There are no actual veggies in here – there is tomato powder, cauliflower powder, garlic powder, and onion powder. Vegetable powders are not the same as the real, fresh vegetables that offer multiple nutrients as well as fibre for good digestion.  While I appreciate that it can be challenging to have selective eaters in your home, there are many ways to incorporate fresh fruits and vegetables into your child's diet without resorting to cauliflower powder. Aside from the lack of veggies in here, this product contains gluten, dairy, sugar, and natural flavours as well as anti-caking agents that might have aluminum, which has been linked to neurological diseases. Also, the box encourages you to add hot dog or sausage to the mix – and depending on the quality of meat you choose, this may add more chemicals to your plate.
What to Try Instead: Gluten-Free and Dairy-Free Baked Mac and UnCheese, and if you want to make a white cheese version, blend steamed cauliflower into the mix.
---
Very berry cheerios
Ingredients: Whole Grain Oats, Sugar And/Or Golden Sugar, Oat Bran, Corn Starch, Corn Syrup, Berry Blend (Blueberry Powder, Cane Sugar, Strawberry Powder, Cranberry Powder, Raspberry Powder), Calcium Carbonate, Salt, High Monounsaturated Canola Oil, Trisodium Phosphate, Monoglycerides, Colour (Vegetable And Fruit Juice Concentrate), Tocopherols To Maintain Freshness, Sodium Citrate, Citric Acid, Natural Flavour, Silicon Dioxide.
The 'Health' Claims: Flavoured With Real Fruit, No Artificial Flavours, No Artificial Colours
Why This is Healthwashing: The main insinuation here is that this cereal has real fruit, but what you really get are strawberry, cranberry, blueberry and raspberry powders. Plus, you're getting a bunch of sugars, corn products, preservatives, and canola oil. There aren't artificial flavours or colours – but there are natural flavours, which aren't as natural as they seem.
What to Try Instead: If the goal is to eat more fruit, try making a smoothie, eating fresh berries, or pairing fresh berries with granola, dairy-free yogurt, or porridge.
---
Probiotic Cauliflower Puffs
Ingredients: Organic Whole Grain Sorghum Flour, Organic Sunflower or Safflower Oil, Cauliflower Powder, Nutritional Yeast, Sea Salt, Evaporated Cane Juice, Onion Powder, Garlic Powder, Spices, Organic Inulin, Bacillus Coagulans GBI-30 6086.
The 'Health' Claims: A Serving of Probiotics, Plant-based, Vegan, Gluten-Free, Non-GMO
Why This is Healthwashing: The back of the package says this snack is 'loaded with probiotics' that 'support digestive health and immune health' – but it doesn't really say how much. Judging by the ingredient list, where the probiotics are listed last, it probably isn't much. A maintenance dose of probiotics would be about 10 billion colony forming units (CFUs), and I doubt this product is able to provide that per serving. If you are looking for digestive benefits, a vegan puffed snack isn't the best way to go about it. Also note that this product is called 'cauliflower puffs' but cauliflower powder is the third ingredient, after flour and oil. This isn't on the list because it's the worst snack out there. It's actually not a bad choice if you're looking for a snacky crispy munch. The issue is with the healthwashing claims. This food is absolutely not restoring your gut health.
What to Try Instead: Opt for probiotic-rich fermented foods like sauerkraut, dairy-free yogurt, miso, pickles, tempeh or kombucha. 
---
Goldfish Veggie Crackers
Ingredients: Enriched Wheat Flour (Flour, Niacin, Reduced Iron, Thiamine Mononitrate, Riboflavin, Folic Acid), Carrot Powder (Carrot Juice Concentrate, Carrot Purée), Sunflower and/or Canola Oil, Cornstarch, Salt, Contains 2% or less of: Monocalcium Phosphate, Baking Soda, Canola Lecithin, Nonfat Milk, Paprika Extract (Color), Sesame Seeds.
The 'Health' Claims: Baked, 1/3 Serving of Carrots Per Serving
Why This is Healthwashing: Goldfish crackers are basically the king of healthwashed products. They use a range of claims on their cracker varieties such as 'made with real cheese', 'no artificial colours or preservatives' and 'colours sourced from plants'. This newest range of Goldfish crackers comes in carrot and tomato flavour and claims to have 1/3 of a serving of these vegetables per serving. You're not even getting a full serving of carrots here _ you're getting a third of a serving! If your child enjoys carrots, which many of them do because they're so sweet, you could likely get them to eat more carrots fresh by pairing them with an awesome dip. You can read more about Goldfish healthwashing in Why Goldfish Crackers Don't Belong in a Lunch Box.
What to Try Instead: If your goal is to get your kids to eat carrots, give them fresh or cooked carrots. If you're looking for cracker options, check out these 22 Gluten-Free Cracker Recipes.
---
Collagen Popcorn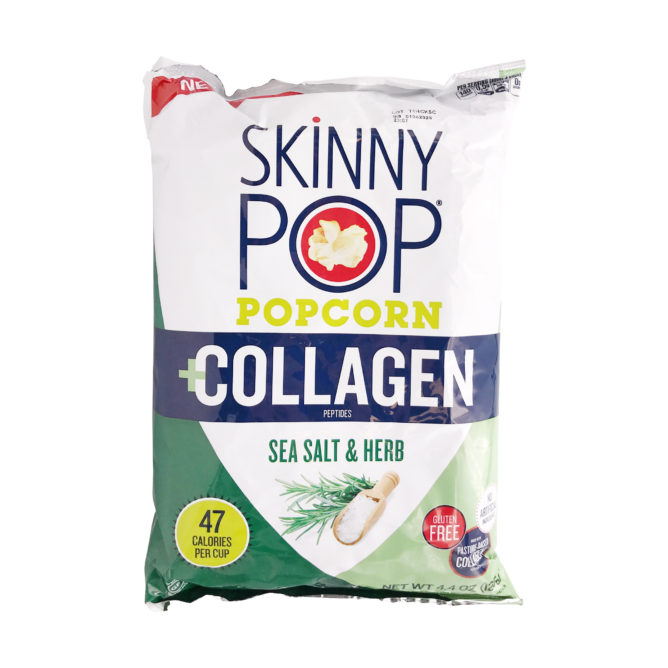 Ingredients: Popcorn*, Sunflower Oil*, Pasture-raised Collagen Peptides, Organic Rice Flour*, Sea Salt*, Spices*, Garlic Powder*. *Non-GMO
The 'Health' Claims: Gluten-Free, Made With Pasture-Raised Collagen Peptides to support skin, joints, hair and nails, No Artificial Ingredients
Why This is Healthwashing: Look, I love my collagen powder but sprinkling it on popcorn is not the best way to consume it. You'll need to eat 3 cups (28 grams) of popcorn to receive 4 grams of protein. It's unclear how much of that protein comes from collagen, especially when you consider 1 cup (8 grams) of regular air-popped popcorn has 1 gram of protein. Single servings of collagen protein brands vary from 12–20 grams of protein per serving, which is usually 1-2 tablespoons worth. You're going to glean much more protein by adding your collagen to a smoothie, elixir, or soup than you will from eating this popcorn. This just seems like a serious waste of animal-derived ingredients, which if you choose to consume them, should be done so as needed and mindfully.
What to Try Instead: I love cooking organic popcorn using ghee, and I have a topping that I make by blending hemp seeds, nutritional yeast, and sea salt in my spice grinder. If you want to maximize your protein, add scoops of collagen to your everyday eating.
This is just a tiny sample of healthwashed products among the expanse of what is available. There are certainly some healthy packaged foods that are good for us – we simply need to be wise, informed,  and curious consumers. When you're looking at a package, it's worth remembering that the product's manufacturers are trying to get you to buy stuff rather than support your health.