You won't find white potatoes up in these parts – they send our blood sugar out of whack and don't offer us much in the nutrient department simply due to the way we consume them. Most of us don't eat potatoes freshly dug up from the garden – we eat them fried or mashed with butter and cream.
Sweet potatoes are a whole other story. Yes, they have the words 'sweet' and 'potato' in their name, but these babies are powerhouses of valuable vitamins, minerals and fibre.
That's why I'm sharing my top 10 favourite recipes in this heavenly gluten-free sweet potato roundup. Let the ogling commence!
Note – if you're wondering about the difference between between sweet potatoes and yams, you can find all the details and how to tell them apart here.
Crispy Baked Sweet Potato Fries with Cashew Mayo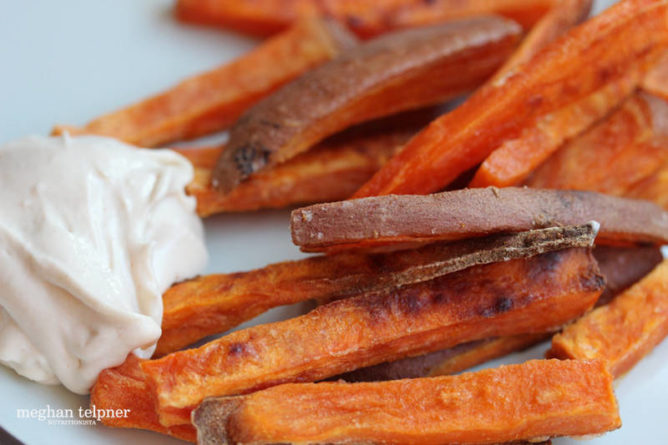 Does it get better than crispy baked French fries? Nope, I don't think it does. This easy recipe adds the perfect shazaam to your go-to veggie burger.
---
Sweet Potato and beab Bean Burritos
This recipe is part of the weekly cooking assignments for the Culinary Nutrition Expert program and it's always a hit with my students. There are a couple of components to this delicious dish – the filling, the salsa and the dairy-free sour cream, but each one is quick and totally worth it.
---
Sweet Potato Gnocchi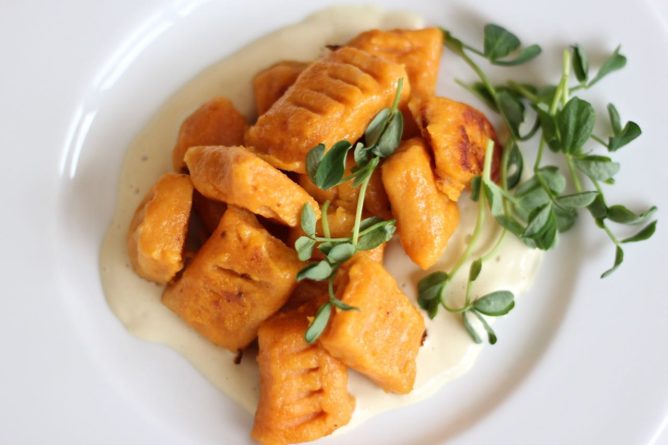 I did it! A gluten-free, dairy-free homemade gnocchi recipe with a vegan option. Top this incredibleness with a luxurious vegan cashew cream sauce and serve with a side salad or veggies.
---
spicy sweet potato brownies (with warm sesame milk)
How do you make brownies even better? By adding sweet potatoes, of course! These gluten-free brownies are also vegan, and packed with good fats, warming spices and – the ultimate healthy ingredient – love.
---
Vegan Sweet Potato Salad
Okay, we're not approaching barbecue season quite yet, but a girl can dream of summer, can't she? This vegan sweet potato salad is an easy dish to take to a summer potluck, though if you're craving it sooner, you can easily serve this warm instead.
---
Sweet Potato Zucchini Latkes
Typical Eastern European Jewish food is loaded with white potatoes and white flour, and when each Jewish holiday rolls around I'm compelled to create great dishes I can actually eat. You don't need to be Jewish to enjoy these baked gluten-free latkes, though, and they're a perfect side dish you can enjoy throughout the year.
---
Buckwheat Sweet Potato Burgers
Take a look at some old-school photos of yours truly and snag a great gluten-free vegan burger recipe that's loaded with veggies, fibre and protein.
---
sweet potato hash
An ultra-delicious gluten-free sweet potato recipe you can eat for any meal of the day.
---
simple dehydrator sweet potato chips
I love a good batch of kale chips, but sweet potato chips are perhaps tied in the race to win my vegetable-chip heart. This is one of those gluten-free sweet potato recipes you'll keep coming back to.
---
Gluten-Free Sweet Potato Strawberry Muffins
Do you like to have muffins for breakfast, dessert, or somewhere in between? No matter when you decide to eat them, these gluten-free sweet potato muffins will satisfy your sweet tooth in a nutritious way.
---
Stuffed sweet potatoes
When life gets busy, simple suppers have been the name of the game. This stuffed sweet potato recipe is easy comfort food and easy customizable for the whole family.
---
Well, there you have it – my bestest gluten-free sweet potato recipes. What are yours? Share in the comments below!