We all know about the obvious sugars, the ones in treats. But there are also the foods we consume that we don't think of like sugar but have a very similar effect on the body. And that is what this recipe is all about. Today, we take down the white potato – and make baked sweet potato fries instead.
White potatoes were once upon a time a healthful food. There was huge variety and they came in all colours. Now we have the Yukon Gold, which is a breed that is mostly starch. White potatoes have a high glycemic index, meaning they affect your blood sugar much like regular sugar does. When we spike our blood sugar, we elevate our insulin output, tax our liver and switch our body into a sluggish, fat-storing mode.
Also of note — cancer cells have a higher concentration of insulin receptors, part of the reason why high sugar diets fuel cancer development. When we eat white potatoes, we are feeding those cells.
As a treat, eating a potato once in a while isn't a problem. But there is also another option… Crispy baked sweet potato fries! They are so delicious, flavourful and low glycemic that why wouldn't we want to switch and swap for these?
Their rich orange colour is a sign that they are high in beta-carotene, vital for eye health, and also carotenoids that are highly cancer preventative. 
Simple scrub the skin of your sweet potatoes (about 1/2 a potato per person).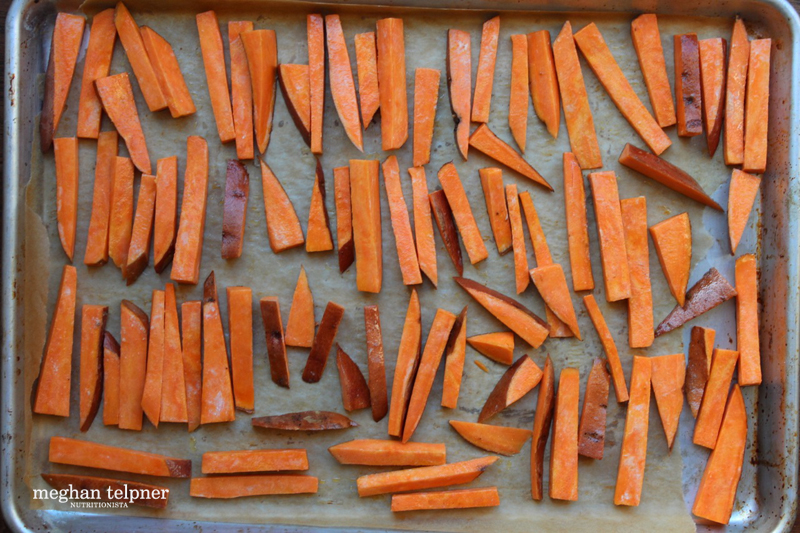 Make sure to lay them out with space between them. If you bake them too close together, they will steam instead of crisp.
And the result of this quick prep recipe is simple, crispy, crunchy baked sweet potato fries.
Print
Crispy Baked Sweet Potato Fries
---
Author:

Total Time:

45 mins

Yield:

4

1

x
3

–

4

medium sized sweet potatoes, scrubbed

2 Tbsp

olive oil

3 tbsp

arrowroot starch

2 tsp

sea salt
Pinch of cayenne
---
Instructions
Preheat oven to 400F.
Slice sweet potatoes into shoestring fry size (or as close as your knife skills permit!)
Layer into a bowl a heaping handful at a time, and sprinkling each layer with arrowroot starch and some of the olive oil. Once all are in the mixing bowl, toss together until oil and starch is evenly mixed.
Lay out on a parchment lined cookie sheet in a single layer and bake until crispy brown, about 45 minutes. If you have a convection oven, you may want to bake for 35 minutes and then check on them to ensure you aren't burning.
Serve hot.
Prep Time:

10 mins

Cook Time:

35 mins
Print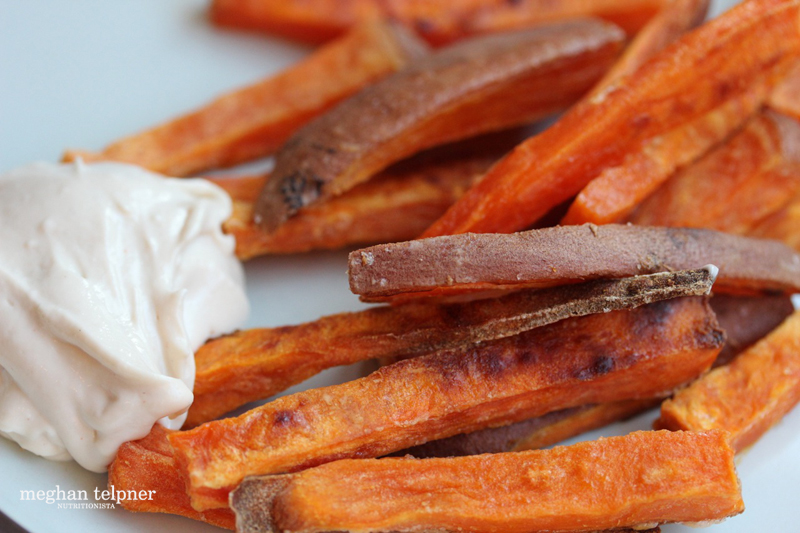 Cashew Mayo
---
Author:

Total Time:

5 mins

Yield:

2

servings

1

x
1 cup

raw cashews

2 Tbsp

lemon juice

2 Tbsp

cider vinegar

1/4 cup

water

1/2 tsp

sea salt
---
Instructions
Place all ingredients into food processor or high speed blender and mix on high until creamy smooth. You may need to scrape down sides with a spatula. Add additional water as needed for desired consistency.
Prep Time:

5 mins

Category:

Condiments
---
Join the 7 Day No Sugar Challenge!
Begin when you're ready and play along with the rest of us online with #UnDietChallenge and #FedUpChallenge.