Healthy eating and living is slowly gaining ground in the mainstream. I remember a time when I was considered a complete lunatic for going gluten-free and skin brushing and making my own fruit roll-ups from scratch. While I still believe I have a lot of work to do in this field (and so do my students), I'm happy to see that whole food diets (like vegan, Paleo or ketogenic) have become popular and we all like to make our own bone broth. Unfortunately, the rise of healthy eating has led to lot of products that are marketed as 'health' foods that aren't actually good for you.
The global health and wellness industry, including healthy food and beverages, was predicted to reach a record high of $1 trillion in sales by the end of 2017. The demand for organic foods is growing too, with $81.6 billion in sales around the world in 2015. It's great that consumers are demanding more of the products they buy and companies are responding; however, some food producers are capitalizing on this desire and creating products marketed with a health halo that aren't particularly healthy at all. This is what I call healthwashing.
In today's post, I want to walk you through some popular 'health' foods that aren't actually all that good for you.
5 'HEALTH' FOODS THAT AREN'T ACTUALLY GOOD FOR YOU
Peanuts and Peanut Butter
Peanuts and peanut butter are touted as an excellent source sof protein, omega 6 fats, vitamins, minerals and fibre. I won't deny that peanut butter contains these nutrients; however, they also contain a number of negative factors that detract from their supposed status as a health food.
Peanuts are extremely high in aflatoxins, carcinogenic compounds that have been linked to a variety of health issues, most notably liver cancer, but also growth impairment in children and developmental delays. They are also heavily sprayed with pesticides (farmers also often plant peanuts to 'clean up' the soil and they are one of the most common foods that trigger allergic reactions. 
Lastly peanuts and peanut butter are extremely high in omega 6 fatty acids. Now, you know I love my fats and they are certainly an important part of our diets. Omega 6s in particular are essential to the body – but only when we have them in the right ratio of omega 6 to omega 3. Peanuts are sky-high in omega 6s, which can send us into an inflammatory state.
You can read up more about peanut butter here – along with my favourite substitute that you can enjoy instead.
orange juice
You've probably seen advertisements from orange juice companies that heavily feature freshly squeezed oranges, as if all they do is poke a straw into an orange and call it a day. This is one of the biggest marketing scams in the health world, which was exposed recently in a book called Squeezed: What You Don't Know About Orange Juice, which I highly recommend as it's a great read.
Fresh oranges are a rich source of Vitamin C, fibre and B vitamins. However, it's hard to maintain those nutrients when you package that into a jug or a box and need the juice to stay shelf-stable for a few months. Instead, food companies heat up the juice (destroying those valuable water-soluble nutrients), then add in 'flavour packs' to make the orange juice smell and taste like what we identify and remember as fresh-squeezed juice. Unfortunately, these flavour packs are a cocktail of chemicals, fragrances and essential oils – and we already know that it's super important to use essential oils that are top quality, particularly if they are for internal consumption.
Commercial orange juice is also loaded with sugar, and there is an ever-mounting body of evidence that excess sugar is detrimental to our health.
If you'd like a glass of orange juice, buy a few oranges and squeeze 'em yourself (or put your kiddos to work and have them do it!).
granola bars and granola
It seems like this one would be a pretty convenient and healthy snack or breakfast, right? Oats, nuts, dried fruit, maybe a bit of chocolate – what's so bad about that? Mainly, it's the sugar. Typical granola and granola bars are pumped full of added sugars, and usually some preservatives to keep them fresh.
The leading granola bar brands in the United States alone are raking in hundreds of millions of dollars a year for their products. The global snack bar market reached nearly 22 billion in 2019 – and that value is expected to double by 2027. Let's take a look at the ingredients in Quaker Chewy, one of the top 3 brands in the US
Quaker Chewy Peanut Butter Chocolate Chip Granola Bars
Ingredients: GRANOLA (WHOLE GRAIN ROLLED OATS, BROWN SUGAR, CRISP RICE [RICE FLOUR, SUGAR, SALT, MALTED BARLEY EXTRACT], WHOLE GRAIN ROLLED WHEAT, SOYBEAN OIL, WHOLE WHEAT FLOUR, SODIUM BICARBONATE, SOY LECITHIN, CARAMEL COLOR, NONFAT DRY MILK), CORN SYRUP, BROWN RICE CRISP (WHOLE GRAIN BROWN RICE, SUGAR, MALTED BARLEY FLOUR, SALT), PEANUT BUTTER SPREAD (PEANUTS, SUGAR, PALM OIL, SALT), SEMISWEET CHOCOLATE CHIPS (SUGAR, CHOCOLATE LIQUOR, COCOA BUTTER, SOY LECITHIN, VANILLA EXTRACT), INVERT SUGAR, PEANUT FLAVORED CHIPS (SUGAR, PALM KERNEL AND PALM OIL, PARTIALLY DEFATTED PEANUT FLOUR, LACTOSE, DRY WHEY, DEXTROSE, CORN SYRUP SOLIDS, SOY LECITHIN, SALT, VANILLIN [ARTIFICIAL FLAVOR]), CORN SYRUP SOLIDS, GLYCERIN. CONTAINS 2% OR LESS OF CALCIUM CARBONATE, SORBITOL, SALT, WATER, NATURAL AND ARTIFICIAL FLAVOR, BHT (PRESERVATIVE), CITRIC ACID.
There are more than half a dozen different kinds of sugar in this one, and sugar is on the label 13 times. And other questionable ingredients include:
Caramel colour, a possible carcinogen, plus artificial colours are also associated with hyperactivity and behaviour changes in children
Natural and artificial flavors, which are flavor agents that have been shown to adversely effect our body's detoxification pathways and have been associated with an increased risk in brain tumour development
BHT, which is linked to tumors, DNA damage and cancer
Soy, a highly genetically modified crop
Palm oil, which has caused environmental damage and habitat destruction
Gluten, a protein found in wheat, barley and rye that can influence a number of health conditions and impact digestion, weight, mood, hormones and more
Dairy, a common allergen that is difficult to digest
Even the brands that many consumers consider 'healthy' are sugary.
Take Nature Valley Coconut Granola Bars for example:
Ingredients: Whole Grain Oats, Sugar, Canola Oil, Toasted Coconut, Rice Flour, Brown Sugar Syrup, Honey, Salt, Baking Soda , Soy Lecithin, Natural Flavor.
Three different kinds of sugar, highly processed canola oil, natural flavours, plus this particular bar has 180mg of sodium.
And these are just the health considerations – what about all of those granola bar wrappers people are throwing away? Where does all of that plastic end up?
For a quick and healthy snack and an afternoon energy boost, it's better to reach for a small handful of nuts, homemade trail mix with a bit of dried fruit, some nut butter paired with fresh fruit, or make your own granola bars or granola so you can control the amount of sugar you add to it.
processed soy foods
I never get more hate than when I critically analyze processed soy foods. I enjoy eating certain soy foods such as:
These are whole foods and they are very different from the highly processed soy 'junk foods' (burgers, hot dogs, candy, fake cheeses, vegan mayo, etc.), and the various derivatives from soy like soybean oil and soy lecithin that are harmful to our health.
Soy is one of the top genetically modified foods. GMO foods are linked to numerous health issues, including allergies, liver problems, infertility and low sperm count, breast cancer, thyroid disorders, kidney stones and more. Genetically modified foods like soy have a detrimental effect on the environment. They threaten biodiversity and create pollution that destroys waterways, land and wildlife.
Soy is also in everything. We expect to see it in tofu burgers, but soy products also show up in a broad expanse of processed foods, everything from canned goods to frozen desserts to bouillon powder to meat products (burgers, ground meat, etc.) Soy is an extremely inexpensive crop – but what is going to the long-term cost to our health?
boxed almond milk + other nut/seed milks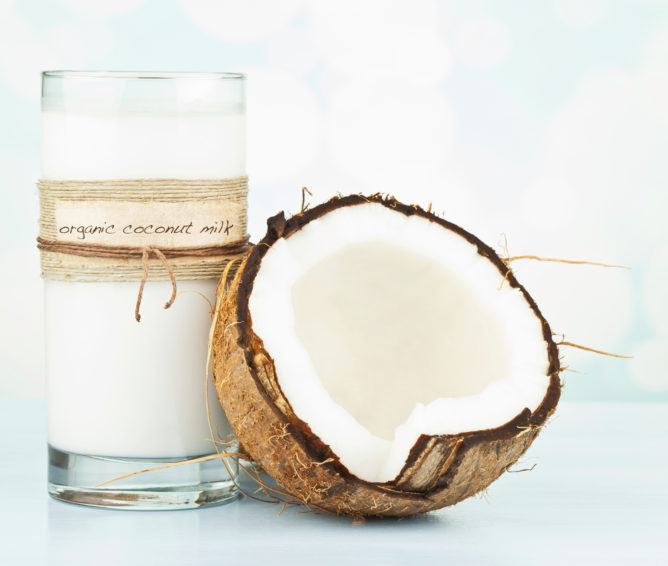 Many people prefer to buy almond milk and other plant-based milks because they last much longer in the fridge than homemade versions. The reason for that is they are loaded with preservatives to extend shelf life, along with added sugars, stabilizers and thickeners to give them a milky texture.
One of the most common additives to almond milk is carrageenan, a preservative that is linked to intestinal inflammation. Store-bought almond milk also tends to have vegetable oils that don't support our health and is fortified with vitamins and minerals that are not the easiest for us to absorb.
Aside from the additives, you're not actually getting many almonds in your milk! Store-bought brands are typically mostly water, which is why they don't often taste that great.
The solution is pretty easy! You can make your own dairy-free milk with almonds, coconut, sesame seeds, hemp seeds, pecan, walnuts, cashews, or whatever other nut or seed you like. It will stay fresh for 3 or 4 days in the fridge, but I like to freeze mine in ice cube trays and mason jars of various sizes to keep it super fresh.
True Health Food Solutions
Kick it from scratch. Most of what I mentioned above are pure convenience foods. They're not actually tough to make at home – you just need to carve out the time in your schedule to do it.
Meal prep. This is utterly essential to healthy eating. Having a well-stocked fridge or freezer means that you won't constantly be reaching for those convenience foods. Here are my top tips for easy meal prep.
Batch cook. Be efficient and delicious by cooking staples like almond milk, granola bars or muffins in large batches. You can grab a guide to Healthy Batch Cooking here.
Share the load. Do a healthy snack swap with friends and family! You make a large batch of one type of snack, and then come home with a variety. Learn how to start this up in your community here.
Image: Amarita