I love coconut. I love coconut water. I love coconut milk. I love coconut meat. Perhaps most of all, I love coconut oil.  During the many trips I've made to the Caribbean (one of my favourite parts of the world), one of the things I loved most is getting fresh coconut right off the beautiful palms!
Coconut oil – along with basically every other fat – got a bad rap back in the 70s and 80's when we were told that fat was the worse thing for us. Now, research is showing that the low-fat diet craze was based on a load of hooey. Is it a coincidence that since tropical oils have become commonly regarded as dietary nightmares and heart attack-inducers, obesity rates and cardiovascular disease continue to rise?
Cold pressed, extra virgin coconut oil is a miracle food. It is incredibly nourishing, healing, protective and delicious.
Ways to Use Coconut Oil
In hot water as a tea
For cooking at high temperatures
As a moisturizer
On your hair to moisturize and reduce flyaways
In baked goods
Coconut oil is amazing. It's beneficial properties are related to its fatty acid composition and structure. This oil is made up of medium-chain fats, which are absorbed immediately by the body and used for a variety of functions, instead of being tucked away as fat. It also contains specific fatty acids called lauric acid, capric acid and caprylic acid, which have anti-bacterial and anti-microbial properties.
Health Benefits of Coconut Oil
There are many, including:
Digestion
Since coconut oil is easy to digest, it's a good option for those who are interested in healing the gut or addressing digestive issues. Its anti-microbial properties and help in dealing with various bacteria, fungi, parasites, etc., that can impact the digestive tract. Coconut oil also helps in absorption of other nutrients such as antioxidants, vitamins, minerals and amino acids.
Weight Loss
Coconut oil is very useful in reducing weight because of those medium-chain fatty acids. Research shows that coconut can not only help us lose weight, but burn fat more effectively, change body composition and reduce the size of our waists in particular.
Stress Relief
New research suggests that it may have anti-stress and antioxidant properties. You can also use it as a massage oil, which will definitely help with stress reduction too!
Immunity + Infections
Coconut oil contains lauric acid, capric acid and caprylic acid, which have antifungal, antibacterial and antiviral properties. The human body converts lauric acid into monolaurin, which can help fight staph infections and skin infections. Coconut oil's anti-viral and anti-bacterial properties can fight harmful bacteria such as listeria and h.pylori (a common cause of stomach ulcers and other digestive issues). It's also effective on fungi and yeast that cause candidiasis (candida), ringworm, athlete's foot, thrush, diaper rash, etc.
Hair Care
It helps your hair grow healthy and strong and can even keep your scalp lice-free. It is an excellent conditioner and helps reduce protein loss in undamaged and damaged hair.
Skin Care
I always say that you should have three jars of coconut oil: one for the kitchen, one for the bathroom and one for the bedroom. It acts as an effective moisturizer on all types of skins. It is a safe solution for preventing dryness and skin flaking and boost skin's hydration. It also protects us from UV radiation and addresses various skin problems including psoriasis, dermatitis, eczema and other skin infections.
Ready to ditch the chemicals? Get FREE access to my natural beauty directory and discover my favourite brands. Learn More
Wound Healing
When applied on infections, it forms a chemical layer which protects the infected body part from external dust, air, fungi, bacteria and virus. Coconut oil is most effective on bruises as it speeds up the healing process by repairing damaged tissues. It can help to heal burns and wounds.
Heart Disease
Coconut oil contains about 50% lauric acid, which helps in preventing various heart problems including high cholesterol levels. The saturated fats present in coconut oil are not harmful to our hearts; in fact, they help improve lipid profiles and reduce risk of cardiovascular disease.
Diabetes + Blood Sugar Balance
Fats are incredibly power foods for balancing blood sugar, since they help us feel satiated and slow down the absorption of sugar. Coconut oil helps control blood sugar and improves the secretion of insulin. It also helps in effective utilization of blood glucose, thereby preventing and treating diabetes.
Brain + Nervous System Health
Nutritious saturated fats such as coconut and ghee nourish the brain and nervous system. Research shows that medium-chain fats can improve memory and cognition in patients with Alzheimer's disease and dementia, while high-fat diets (such as ketogenic diets) can protect the brain and treat neurological conditions.
Liver + Kidneys
Animal studies show that coconut oil can improve liver function and protect against liver damage.
Bone Health
Coconut oil improves the ability of our body to absorb important minerals. These include fat-soluble vitamins such as Vitamin D, as well as calcium and magnesium, which are necessary for development of bones. Animal studies show that coconut oil may help prevent bone loss, too.
How to Choose Coconut Oil
I opt for organic, unrefined coconut oil in glass jars because it's minimally processed and isn't cut with chemicals. However, it's always important to read labels to make sure that you know what you're getting.
Seriously, add this oil into your diet. Replace vegetable oil, butter or margarine with coconut oil. Replace your fancy moisturizers with coconut oil. Replace your morning cup of tea with hot water and coconut oil. Get on it. Go!
7 Amazing Coconut Oil Recipes
Here are some of my favourite recipes to help you join the coconut oil fun.
Gluten-Free + Dairy-Free Lemon Poppyseed Muffins
A moist and delicious gluten-free, dairy-free lemon poppyseed muffin with lemon cream frosting. And, because it uses chickpea flour, it's higher in protein and fibre.
---
Wild Blueberry Crumble Recipe
In this recipe, coconut oil replaces butter to create a crunchy and crumbly topping. Use whatever fruit is in season to make this a year-round treat.
---
Caramel Fudge Chocolate Bar
Coconut oil and chocolate are the perfect combo. This multi-layered, healthy caramel fudge bar is a delicious treat that you should probably make once you've finished reading this post.
---
Easy Thai Red Curry (with vegan and Paleo options)
A one-pot, full meal deal that features coconut flavours and red curry paste, which is extremely anti-inflammatory.
---
Brain-Fueling Hazelnut Coconut Fudge
The thick texture of the oil combined with nuts make this low-sugar treat incredibly fudgy and very delicious.
---
Fat-Fueled Morning Elixir Recipe
A fat-rich morning elixir to keep blood sugar stable, your immune system humming and your skin glowing. You can grab more elixir ideas here.
---
Grain-Free Coconut Cookies (Toddler Super Cookies)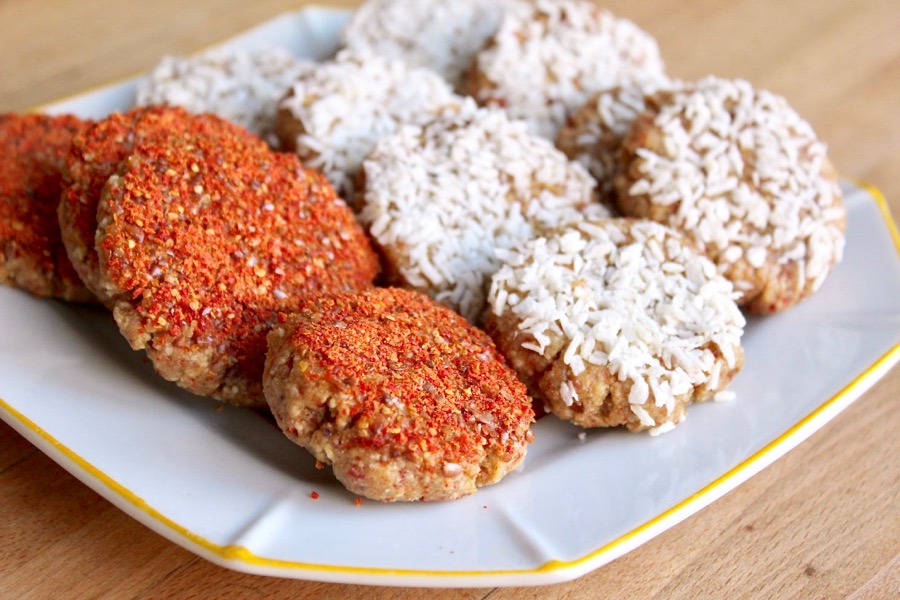 Easy to make, no bake cookies that are winners with toddlers and children.
Header image: iStock/jurgakarosaite