Menu planning and meal prep are incredibly important if you'd like to eat healthfully without a boatload of stress and aggravation. Having a plan helps you stay on track, stick to your health goals and eat deliciously of course. It's handy to have a bunch of gluten-free, plant-based meals stashed in your freezer, but failing that these pantry staples can help you solve the puzzle of what's for dinner.
There are a few pantry staples I always have on hand to help me cook, whether I'm blending up an elixir or simmering a huge pot of homemade tomato sauce. I always have these six foods in my pantry – so if you want to snoop around in my kitchen, you'll find these pantry staples.
6 Pantry Staples I Always Have in My Kitchen
1. Ghee
I am obsessed with ghee. It's a nutritious saturated fat and fats are nothing to fear. In fact, we need to embrace more of them in our lives.
Ghee is one of my favourite pantry staples. It's delicious, relatively shelf stable and very easy to make at home. From a nutritional standpoint, ghee is:
How to use ghee: I add a healthy dollop or two to my morning elixir, use it for high-heat cooking, replace ghee anywhere you'd use butter (baked goods, spread on toast, drizzled over veggies, etc.). Discover 20 awesome ways to use ghee here.
Best stored: You can store ghee in the fridge, but I prefer it in the pantry because room temperature ghee is softer and more scoopable.
---
2. Chickpea Flour
Chickpea flour, as the name suggests, is made from chickpeas (garbanzo beans). It's a nutritionally dense flour that is grain-free and packed with protein and fibre, making it a great choice to amp up your baking and cooking.
Chickpea flour is one of my favourite pantry staples because it's fantastic for both sweet and savory dishes. Add it to your flour blends and bake lemon poppyseed muffins, whip up a batch of the best ever banana pancakes or roll out some gluten-free sweet potato gnocchi. It also makes an amazing pizza crust and sandwich bread. You could even incorporate some into sourdough bread.
How to use chickpea flour: Use chickpea flour in gluten-free baking like breads, muffins and cookies. Add it to pancake or waffle recipes, use it in a roux to thicken stews, sauces or soups, or incorporate it into dumplings.
Best stored: In a sealed jar in a cool, dry place.
---
3. Nori sheets
Nori is one of my favourite sea vegetables and it's an incredibly versatile pantry staple. It is the seaweed primarily used in sushi, but it can be used for so much more than that too.
As a member of the sea vegetable family, nori is:
How to use nori: Roll up your sushi in nori sheets (you can go grain-free by using cauliflower rice or your favourite hummus/dip/spread), use it as a bread replacement for wraps, munch on it instead of crackers, crush it into your miso soup and congee (or other soups), blend it with sesame seeds and sea salt and use it as a seasoning.
Best stored: Tightly sealed, either in the original re-sealable package or in a mason jar. This keeps it crunchy and crisp.
4. Crushed Tomatoes (in a jar)
I always buy my crushed tomatoes in a glass jar as opposed to a tin. Many canned goods are lined with BPA, a chemical that interferes with our hormones. Since tomatoes are acidic, they can eat away at the lining and it leaches into the tomatoes.
Jarred tomatoes are easy to find nowadays. If you're into home preserving and canning, you can also freeze or can them in the summertime when tomatoes are everywhere.
How to use crushed tomatoes: Use them as a base for pasta sauces, curries and stews, tomato soup, salsas, or dipping sauces for meatballs or veggie balls.
Best stored: Sealed in the jar. Once open, store in the fridge or freezer.
---
5. Coconut Milk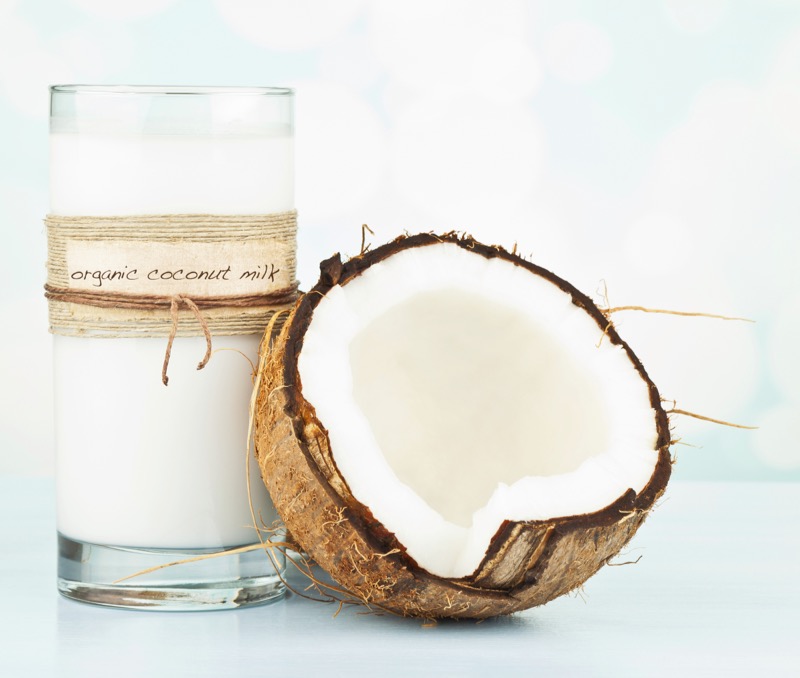 Canned coconut milk is so delicious and while it's easy to make your own with shredded coconut or fresh coconut meat, there's something about the canned version that is extra creamy.
Coconut milk contains a specific medium-chain fat called lauric acid, a compound that is also found in human breast milk. Lauric acid has anti-bacterial properties and can improve cholesterol levels. As with ghee, coconut milk fats are great for energy, digestion and maintaining a healthy weight.
I purchase coconut milk in BPA-free cans or boxes. Check the label and ensure you're buying coconut milk that doesn't have extra sugar or stabilizers like xanthan gum or guar gum. These can sometimes give people a stomachaches.
How to use coconut milk: Check out these 12 delicious uses for coconut milk for inspiration. Some of my fave ways to use it are in coconut kefir, coconut whipped cream, elixirs and porridges.
---
6. Something Fermenting!
Our kitchen is a science lab and we've got a pantry full of fermented goodies and homemade tinctures in various stages of readiness.
Fermented foods are incredibly nutritious. They benefit our digestive health and support our immunity, and they're so easy to make at home. Whether you love sauerkraut, kimchi, kombucha, shrubs or pickled veg, you can find a fermented recipe to make at home. Fermenting definitely takes some experimentation. You'll need to figure out what works the best in your climate and home, but once you've hit the sweet spot it's well worth it.
Ferments are also remarkably hands off, too. Once you've got them in jars, they're low maintenance – the bacteria do all the work!
How to use fermented foods: Have a tablespoon with every meal, add them to smoothies, use them as a sandwich or salad topping, etc. It depends on what you're fermenting. You can throw your coconut kefir into ice cream pops or overnight oats, or dice up pickled veggies and mix them with grains for a tangy side dish.
Best stored: Once the fermentation process is finished, most ferments are best stored in the fridge.
Your favourite pantry staples will depend on what you enjoy eating and cooking, but having a well stocked pantry will serve you well in your path to healthy eating.
What pantry staples do you always have in your kitchen?